The Liam MacCarthy Perpetual Challenge Cup, to give it its full name.
Or Liam, if you're friendly with one of the most famous pieces of silverware in Ireland.
And, let's face it, at least half the country is friendly with Liam - it gets brought out to functions, clubhouses, schools, businesses, celebrations, weddings and pubs the length and breadth of the country year-round.
It has a special place in Irish life and the history of the country, but, like a lot of important figures in Ireland, we have an informal relationship with it.
We need your consent to load this Facebook contentWe use Facebook to manage extra content that can set cookies on your device and collect data about your activity. Please review their details and accept them to load the content.Manage Preferences
"To some people it might be just a piece of silver, but to me it's so much more than that, so much more than just a trophy - it's a symbol of history," explained Brendan Maher, the last man to lift the famous trophy on the steps of the Hogan Stand.
Tipperary had to hand the cup back recently and it will be fought over by Galway and Waterford in Sunday's All-Ireland Senior Hurling Championship final at Croke Park.
"We all play hurling for the enjoyment of it and performing in front of people," continued Maher. "Our careers are short and our performances are only memories, but to be one of the men that lifted Liam MacCarthy is to be part of history; it's there in writing.
"The reaction that people have is unbelievable - that was something I couldn't get over. Even after it had all settled down people's reactions were special. People are in amazement - they don't care who has it or what players are around, they want to hold it, lift and get a photo."
The Liam MacCarthy Cup was presented first in 1923 - to the 1921 All-Ireland winners.
The trophy was gifted to the GAA in '22 and handed over to Limerick's winning captain Bob McConkey the following year, though it was for the '21 All-Ireland final, which was delayed due to the unstable political situation in the country at the time.
Liam MacCarthy was born in London to Irish parents, his mother from Limerick and his father Cork, and he was active in both political and GAA circles in the British capital. He was president of the London County Board.
He presented the GAA with £50 to commission a cup for the All-Ireland hurling winners, which was constructed to look like a medieval Irish drinking vessel and made by jeweller Edmund Johnson at his premises on Dublin's Grafton Street.
MacCarthy was born in 1853, dying in 1928, and the original cup bearing his name was retired in 1991 to be replaced by the exact replica that is still used today.
During the week before the decider that replica sent off for it's annual makeover with a silversmith in Kilkenny, ironing out the bumps and scratches earned on it's year-long tour around the country and, indeed the world.
It's against GAA rules to fill any trophy with alcohol, but it happens and informed sources suggest that Liam MacCarthy can hold around 5 litres when full to the brim.
Joanne Clarke is curator at the GAA Museum at Croke Park, where Liam has lived since the doors first opened in 1998. She said: "Along with the original Sam Maguire Cup they'd be the two most popular exhibits in the museum.
"For Irish people, and particularly people from hurling counties, it's the ultimate prize and the holy grail so people really like to look at it, appreciate it."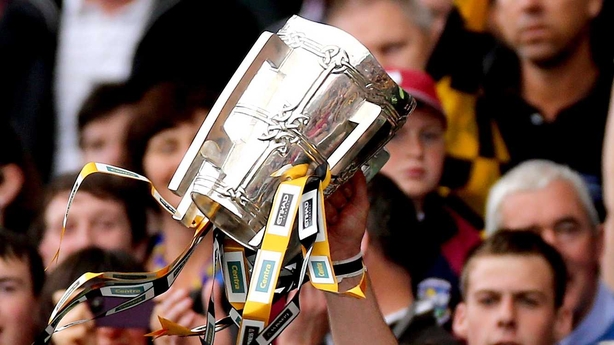 As an All-Ireland winning captain you get to spend a fair bit of time with Liam, even after the first few hours and days when it's your constant companion.
One of the funniest times Maher spent with the cup was last December when he was accompanying Liam to the Tipperary dinner dance in New York. The cup was the guest of honour - the All-Ireland winning captain just happened to be its ticket to America.
Maher takes up the story: "The cup doesn't come with it's own case so I had it in a backpack. Every time I had to go through a security check I was setting off alarms they were pulling me up to check the bag.
"When I eventually got on the flight it was packed and I was struggling to get the bag into the overhead compartment. I eventually said to one of the flight attendants, 'look, I have a cup in the bag, would it be possible to leave it somewhere because I don't want it getting damaged'.
"She asked me what sort of a cup it was and when I showed her she was 'that's Liam MacCarthy!' Sure I was brought up to the cockpit and there were pictures with the pilot and crew.
"Then when they were giving the headsets out for the in-flight entertainment, they put them into the cup and walked it up and down the aisle - I'd say it took half the flight because there were so many people looking for photographs! That's a great memory," he recalls fondly.
Ready for take off from Shannon to NYC with Liam, see ye soon @mattmacklin @cartystephen @LiamLsheedy pic.twitter.com/DNufhkS54c

— Brendan Maher (@BrenMaher8) December 2, 2016
The person who has probably spent more time in the company of the famous old cup is Rackard Cody.
Cody, no relation to Kilkenny boss Brian Cody, is the Cats' kit manager and eleven times since he took on that role in 1999 they have won the All-Ireland.
He puts Liam up for the winter at his home and accompanies him to events the length and breadth of the country.
"If someone gave me a call, I'd be off, be it Cushendall, Armagh, Waterford, Cork, wherever," he said.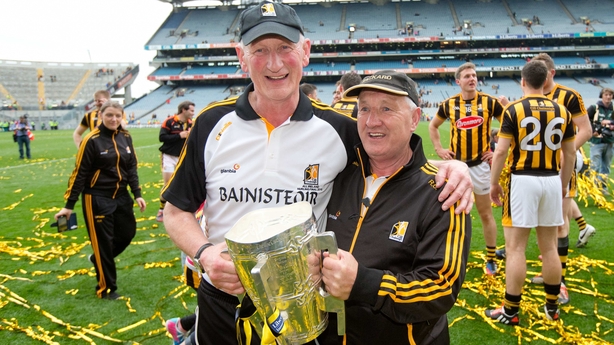 "I miss him now. I'd be bringing him to schools and all over the country; you'd get a great reaction. I used to have them all here in the house, Liam MacCarthy the League trophy and the Walsh Cup, but all I've left this year is the Walsh Cup.
"I'd shine and polish him and there'd never be a scratch on him when I was handing him back to Croke Park - there was no need for any repairs."
Whoever wins on Sunday, Liam MacCarthy will be in huge demand as the cup heads back to a county where it hasn't spent a winter in a long time.