Where once it was simple as you tried to get the better of your opponent. "Stay on your man", or "you're not marking up" were the cries from the sideline.
It's not like that anymore on the GAA fields.
If you had a penny for every time, the 'sweeper' or 'systems' is used to dissect them game in recent times, well you'd have a healthy savings account.
Waterford hurling has brought us much ever since they re-emerged as a genuine force with that Munster triumph in 2002. Ahead of their appearance in Sunday's All-Ireland final against Galway, much of the talk will focus on their well-defined sweeper system. It's a tactic that has served the Déise well during Derek McGrath's time in charge.
That said, McGrath feels that employing a sweeper is just one aspect of the game that perhaps gets too much attention.
Speaking to RTÉ Sport, he said: "There has been a lot of conjecture and debate around styles of play but what often gets lost in any debate are the core principles.
"Those core principles are hard work, use of the ball and having a good attitude.
"What happens then is an argument between traditionalists against innovators. We see ourselves as traditionalists, we love the game, we want to win and will change things if necessary to make that happen.
"It's a debate that needs a wider context and for me it's not something that I'm not going to dwell on too much as a manager preparing a team for an All-Ireland final.
"I will implement a plan for Sunday, but also I want to enjoy the build-up to the final."
"A team plays with instruction, but a team must also play with instinct"
When asked whether he use the criticism of Waterford's style as a motivation, McGrath added: "You have to concentrate on what you feel is right for your team on any given day. That is the nature of management, it is to be pragmatic. This is what we need on this given day to win. That for me is the job of management.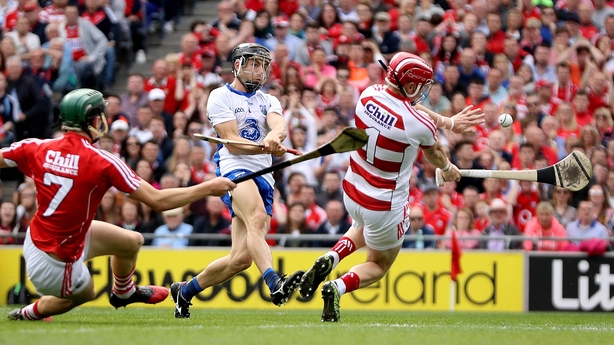 In drilling down further on what makes a successful boss the De La Salle clubman replied: "A team plays with instruction, but a team must also play with instinct - look at Austin Gleeson's goal against Cork and the surging run made by Jamie Barron. That to me is the key.
"If you stand up in front of a group of players and say 'no match-ups today, we'll just go out and play', then they'll think you're a right chancer."
Live coverage of Galway v Waterford in the All-Ireland SHC final (3.30pm) on The Sunday Game Live from 2pm on RTÉ2, with live radio commentary on Sunday Sport, RTÉ Radio 1 from 2pm.
Live blog from 1pm on RTE Sport Online and the News Now App.
Highlights of all the day's action on The Sunday Game on RTÉ2 from 9.30pm.