Sean Cavanagh says Dublin may be the greatest Gaelic football team of all time and fears that top players may opt out of the inter-county game in future as the demands continue to grow.
Speaking exclusively to RTÉ Sport following his retirement from the highest level of football at the weekend, the Tyrone legend said he had never seen a team like Dublin before.
The Dubs dismantled Tyrone by 12 points - 2-17 to 0-11 - in Sunday's All-Ireland semi-final at Croke Park and it marked the last game of Cavanagh's glittering inter-county career.
And with the demands placed on inter-county football continuing to grow each season, he worries that players may opt out rather than make the enormous sacrifices required, though he never wants to see pay-for-play.
"The opposition was much stronger than I have ever seen throughout my whole career and I said that to a few of them leaving the pitch," explained Cavanagh, speaking about Dublin.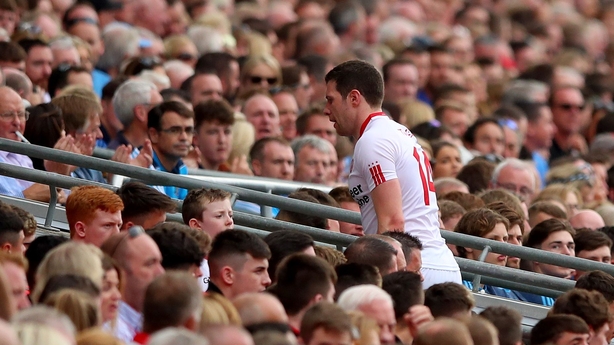 "In my opinion they are the greatest team I have ever faced and quite possibly the greatest team to have played GAA.
"It scares me that they have so many good players and they are seamlessly going through the gears without having to rely on the same players. Their pace, their power is at a level that is above ours and in my eyes above everyone.
"There's a sense of acceptance that we did everything in the gym, on the practice field and in the tactics room and it wasn't good enough. You have to accept sometimes that you were beaten by a much stronger machine.
"It's not that they are unbeatable, they will be at some stage. But where they're at as a team, and their level of preparation, impresses me. Mayo have a serious job in their hands in an All-Ireland final to match that.
"Dublin won't play that well every day they go out, but, they are, in my eyes, the best team in country by a fair distance."
My incredible journey ends. Blessed to have shared the highs & lows of our game with some amazing Gaels. Thanks for everything @officialgaa

— Sean Cavanagh (@SeanCavanagh14) August 27, 2017
Cavanagh has seen a lot of change since he made his Tyrone debut as a youngster in 2002 - the year after he won an All-Ireland minor medal.
He won three All-Ireland medals, All Stars and a Footballer of the Year award and he says he retires knowing he did all that he can. However, he believes other may not enjoy lengthy careers like him because of the demands now placed on players.
"I'll forever believe it should remain amateur - it's an amazing sport and doing it for your family and your club represents everything good about what we do," he said.
"But at inter-county level it's getting harder to manage the time, manage the input, and whenever you come up against a team like Dublin having given nine or ten months of your life and you leave the pitch knowing you are ten or 15 per cent off the team in the country I don't know where you go.
"There may be a point coming where our top players decide it's not worthwhile and that's scary because you want the GAA to be the premier sport in Ireland."