Tyrone's All-Ireland semi-final defeat to Dublin on Sunday had an end-of-an-era feeling about it.
This is a game that Mickey Harte was working towards for three years and his team were beaten by 12 points, which is a serious set-back. It also marked the final game of Sean Cavanagh's incredible inter-county stay.
The aftershocks of this defeat could be felt for a few years around the county.
Most supporters know that Dublin are a far superior team and even with different tactics the likelihood is that Tyrone would have been beaten out the gate. People are starting to look at individual players now and question are they good enough.
He reached his absolute peak in 2008 when we had lost so many star forwards and he almost single-handedly dragged us to an All-Ireland title playing at full-forward
I'm not sure how helpful that is because, had the draw been different, they could have found themselves in an All-Ireland final and even had they gotten a hammering in September people would have been talking about them as they second best team in Ireland.
There's an air of depression hanging over Tyrone supporters at the minute because people know that their team won't be fit to beat Dublin for the next three or four years at least.
I would argue that in the noughties, when the team I was part of won three All-Irelands, we weren't a defensive team.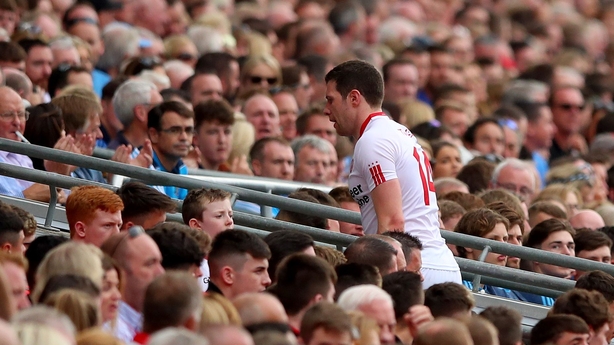 We played our centre half back as a sweeper and Brian Dooher came back from wing-forward to help out in defence when we hadn't got the ball because all he wanted was work - you couldn't tell him to stay up front.
What we see now is far more structured and it clearly didn't work. All they managed was eleven points and that's not going to win you very many All-Ireland semi-finals. It wasn't as if they kicked it away either, as happened in last year's quarter-final defeat to Mayo.
Mickey Harte, and I'm assuming that Mickey will still be in charge next year, is going to have to change the way the team plays and sets up tactically.
Tyrone aren't aiming to win just Ulster titles any more, and this is a good thing as far as I'm concerned. On the strength of this year, this team could dominate the province for the next few years. Winning All-Ireland titles is what they want, but Sam Maguire looks a long way away at the moment.
On Sunday the team set up defensively and didn't change during the first half even as the game was slipping away from them. Things changed a little bit after half-time, but not enough to make a difference.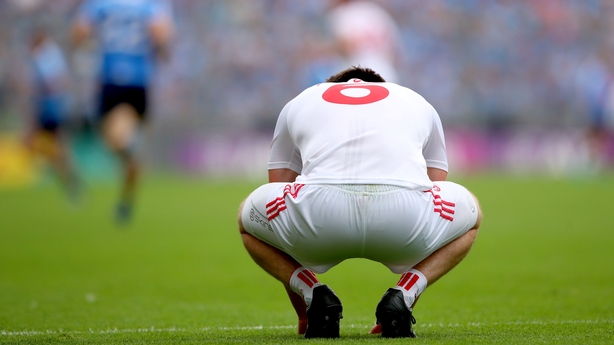 I was surprised that Tyrone were happy to allow Dublin to retain possession from all of their kick-outs. I thought that they'd put pressure on at certain stages and ask questions of Stephen Cluxton - on the rare occasions Dublin are rattled it's when other teams have done that.
They were looking to sit back, absorb Dublin attacks and counter. That clearly didn't work and the running game never got going either. I think the concession of an early goal was a blow and the self-belief drained out of the team.
When that happens, it's often a case that you're trying to get out of Croke Park without getting a real hammering rather than trying to rescue the game and actually win it.
It was a sad way for Sean, a man I have known since our youth and who I played with on Tyrone teams and with our club Moy, to wrap it up. To play for 15 seasons, winning three All-Irelands, All Stars and a Footballer of the Year award, is a remarkable achievement at the highest level.
I couldn't say enough about how good a footballer, a team mate and a leader he is and he retires with a county owing him a debt of gratitude.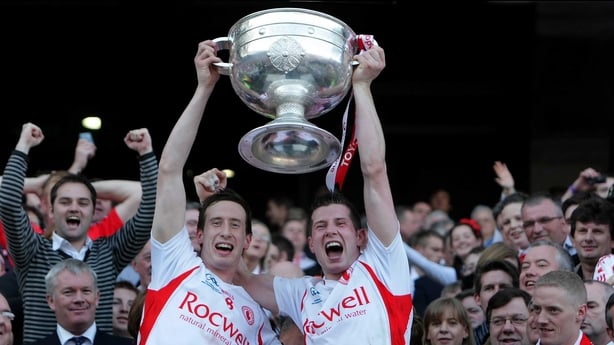 When he burst on the scene first he redefined the modern midfielder's role and no one has done it better since, and I'll include greats like Darragh Ó Sé in that, and in latter years he reinvented himself in a number of different roles.
He reached his absolute peak in 2008 when we had lost so many star forwards and he almost single-handedly dragged us to an All-Ireland title playing at full-forward.
He has also always been a tremendous ambassador for the game he loves; we have a tendency in the GAA to talk down football, but Sean always promoted it.
That goes back to his incredibly positive personality - nothing for Sean was impossible and I think that's why he achieved as much as he did.
He loves football and he will miss playing with Tyrone, particularly all the time he would have spent with his brother Colm driving to training and in the gym. He has said though that he wants to play for Moy until he's 40 and I look forward to watching him still beating defenders with that trademark shuffle for a few more years yet.