Mayo barged their way into another All-Ireland final with one of their most impressive displays in recent history.
They blitzed Kerry in the semi-final replay at Croke Park to reach their fourth Sam Maguire decider in six seasons - and make no mistake, they'll be travelling in September to win.
There was a body of opinion that they had left it behind them when they drew with the Kingdom six days previously. But that wasn't the case.
From the first exchanges they dominated. Every major individual battle was won by a man in a black jersey - they won it in the air, they won it on the ground and they bossed their men.
Kerry worked their way back from seven down to four behind with ten minutes remaining and it looked as though they were going to give Mayo a searching examination of their credentials.
And it was a test they passed.
In a three-minute spell they kicked three more points to give themselves breathing space.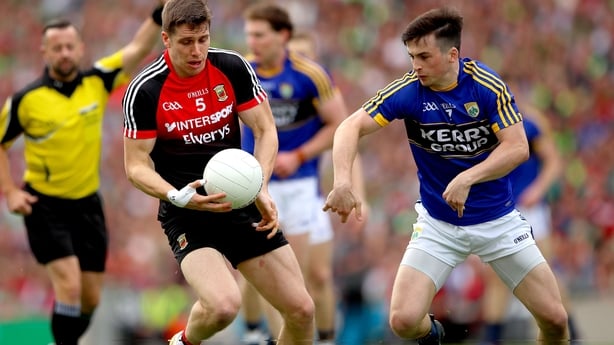 This was the perfect combination of poise and aggression.
As a team they made the right decisions collectively and individually. The ball was kicked when it had to be, it was run when needed, the right pass was picked at the right time and they held possession when they needed.
They have been knocking on the door since they made their Connacht title breakthrough in 2011 and now, under Stephen Rochford, they have never been closer to kicking it down.
The Kingdom lost their way and their manners, finishing with 13 men with Peter Crowley and Kieran Donaghy both seeing red. Mayo's Paddy Durcan got the line too for a late second booking.
Before throw-in there was a murmur in the crowd when the Kerry changes were unveiled - full-back Mark Griffin was dropped after his tough afternoon on Andy Moran the first day, replaced by Jonathan Lyne.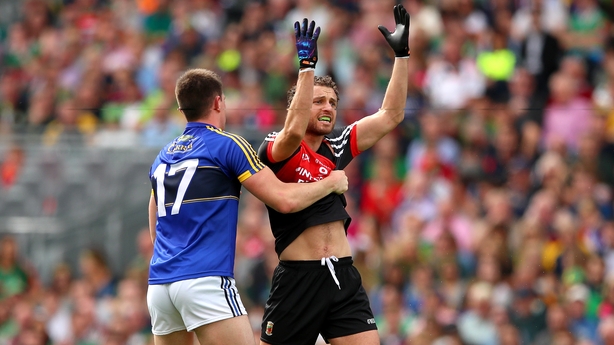 Former footballer of the year James O'Donoghue, who misfired in the draw, was benched with Championship debutant defender Tom O'Sullivan getting a start and Jack Barry replacing Anthony Maher in the middle following his impressive turn as a substitute last Sunday.
There were no personnel changes for Mayo, though there were the expected tactical innovations.
Donal Vaughan, who was to go off injured in first-half stoppage time, picked up Kerry target man Donaghy on the edge of the square with Aidan O'Shea going to centre-back.
The latter dropped back on the quarter-hour mark, but pressed forward repeatedly and moved Donaghy to where he didn't want to be.
His frustration showed when, on 20 minutes, referee David Gough stopped the play to book the big man for dissent.
Mayo put a relentless squeeze on Kerry's kick-outs and they had the better of the aerial battles in the first half - an area the Kingdom dominated and built a platform from in the first game.
This forced keeper Brian Kelly into emergency measures from the tee and he wasn't able to cope. One kick-out aimed short towards a corner-back actually went out for a '45' and they very next resulted in a 13-metre hop ball after it didn't travel the minimum distance.
Pat Spillane: 'Mayo played all the football...if Kerry get out of this it will be Lazarus-like' #rtegaa pic.twitter.com/ambskQZPi3

— RTÉ GAA (@RTEgaa) August 26, 2017
The key score in the first half came six minutes before the break when Diamuid O'Connor palmed home the ball after a mis-guided Vaughan effort dropped short and all the Kerry defenders could do was forlornly appeal for a square ball.
In attack, all Kerry had was Paul Geaney, kicking four of their six first-half points. Mayo relied on Cillian O'Connor frees, he was back to form from the placed ball following an iffy replay, but a succession of players drew score able frees.
Mayo went into the dressing rooms with a five-point cushion, leading 1-08 to 0-06.
The men in red and black got their second two goal minutes after the restart, Andy Moran winning a great ball out in front from Conor Loftus, playing a one-two with Cilian O'Connor before diving full length to palm home.
Andy Moran scores Mayo's second goal - Can Kerry come back? Watch now on The Saturday Game Live @RTEOne #rtegaa pic.twitter.com/1SQWFYzcHJ

— RTÉ GAA (@RTEgaa) August 26, 2017
Kerry switched tack at this stage and went route one, with their main attacking outlet the long ball into Donaghy. O'Shea contested and broke most possession though, with defenders to mop up the ball on the ground.
The Kingdom's Darran O'Sullivan got a black card shortly coming on and Cillian O'Connor followed him not long after, but Mayo fans needn't have worried as Jason Doherty took over the dead balls like he was born for it.
The inevitable happened when Kerry were reduced to 14 men on 62 minutes when Peter Crowley walked on his second yellow, his team paying the price for their sloppy tackling.
Right at the death Donaghy, straight red, and Durcan joined him in the stands.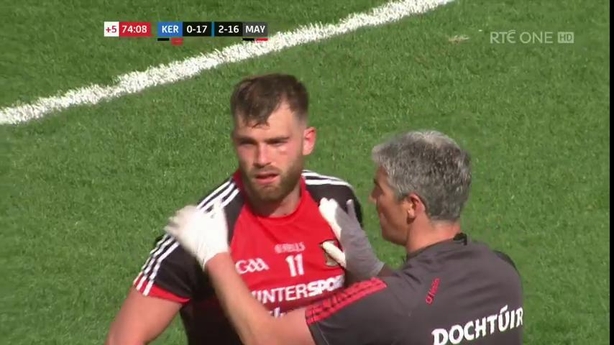 Scorers for Kerry: Paul Geaney 0-10, 8f; James O'Donoghue 0-03, 1f, Johnny Buckley, Jonathan Lyne, Jack Barry, Fionn Fitzgerald 0-01 each
Scorers for Mayo: Cillian O'Connor 0-06, 6f; Andy Moran 1-01; Diarmuid O'Connor 1-00, Jason Doherty 0-03, 1f, 1 '45'; Kevin McLoughlin Conor Loftus 0-02 each; Chris Barrett, Paddy Durcan 0-01 each.
Mayo: David Clarke; Brendan Harrison, Donal Vaughan, Chris Barrett; Keith Higgins, Aidan O'Shea, Colm Boyle; Séamus O'Shea, Tom Parsons; Kevin McLoughlin, Lee Keegan, Diarmuid O'Connor; Cillian O'Conor, Andy Moran, Jason Doherty.
Subs: Paddy Durgan for Vaughan 35+2mins; Conor Loftus for Diarmuid O'Connor HT; Conor O'Shea for Cillian O'Connor mins 51 min (black card); Stephen Coen for Séamus O'Shea 60 mins; Danny Kirby for Boyle 68 mins; Ger Cafferkey for Barrett 73 mins.
Kerry: Brian Kelly; Tadhg Morley, Shane Enright, Killian Young; Jonathan Lyne, Peter Crowley, Tom O'Sullivan; David Moran, Jack Barry; Donnchadh Walsh, Johnny Buckley, Stephen O'Brien; Paul Geaney, Kieran Donaghy, Paul Murphy.
Subs: Darran O'Sullivan for Walsh HT; James O'Donoghue for Buckley HT; Fionn Fitzgerald for Enright 38 mins; Jack Savage for Darran O'Sullivan 44 mins (black card); Mark Griffin for Young 50 mins; Barry John Keane for Tom O'Sullivan 62 mins.
Referee: David Gough (Meath)
'It's definitely up there' - Keith Higgins gives his immediate reaction after Mayo's semi-final replay win over Kerry #rtegaa pic.twitter.com/3ssvg6y21V

— RTÉ GAA (@RTEgaa) August 26, 2017