Dublin and Tyrone have long enjoyed a spiky relationship, dating right back to the day of their first Championship meeting in the 1984 All-Ireland semi-final.
The Dubs won, but the main talking point afterwards was Tyrone's audacious decision to warm up in front of Hill 16 and the Boys in Blue's own fans at Croke Park. It's a trick that wasn't repeated for another 22 years when Mayo did the same and we haven't seen the tactic since.
In 1990 the two counties met in a St Patrick's Day exhibition game at Toronto's cavernous Skydome, which was quickly turned into the killing fields as head butts, high tackles, crunching challenges and fists flew in what was to become one of the GAA's many infamous foreign adventures.
The stewards told Paul Clarke, who was laying out the cones, that we'd have to warm-up out there - and he was pointing to the carpark! - Paul Caffrey
Five years later they contested their first All-Ireland final, with the Dubs winning after Charlie Redmond played for several minutes on despite having been booked twice by referee Paddy Russell and Tyrone had a late equalising point controversially disallowed.
In 2006 they staged the Battle of Omagh, when red cards rained and suspensions were dished out by the half dozen, though most of the players eventually got off as they escaped through GAA loopholes in Croke Park meeting rooms.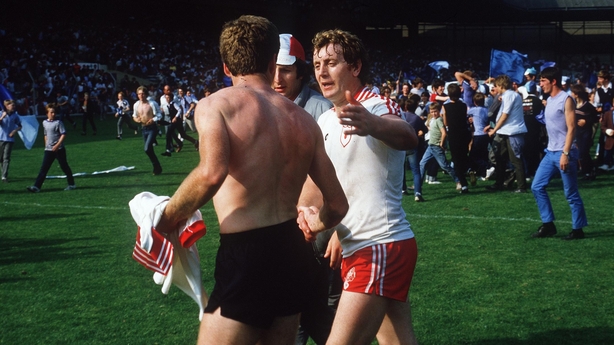 Amongst all of that there were some memorable games of football, particularly the 2005 drawn All-and replayed Ireland quarter-final, and some era-defining results.
Considering how far they are apart geographically and how infrequently they have played each other, they have squeezed a lot in.
"Even the League games recently have been pretty intense, even if they weren't that pretty," said three-time Tyrone All-Ireland winning wing-back Philip Jordan, who had his share of battles with the Dubs.
"Dublin are top dogs and knowing Mickey Harte, he'd have identified the League games against them as key games to find out how far were Tyrone off the very best."
Back in the noughties it was Tyrone who were top dogs and the Dubs were trying to knock them off their perch.
Following on from those epic games in 2005, which included Owen Mulligan's brilliant solo goal into the Canal End, the sides met in the first League game of 2006 with Tyrone defending All-Ireland champions.
"We were planning to clap them onto the field as is traditional and mannerly," recalled then-Dubs boss Paul 'Pillar' Caffrey. "Before the game Tyrone were warming up and we were heading out to join them when one of the stewards told Paul Clarke, who was laying out the cones, that we'd have to warm-up out there - and he was pointing to the carpark!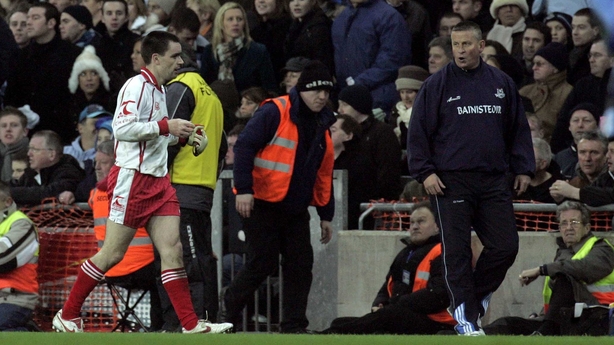 "We decided there and then that we weren't going to clap them onto the field.
"I read recently Alan Brogan saying that there was a hatred in the Dublin set-up towards Tyrone, much more so rather than Kerry, and I would back that up - that was the feeling across the board.
"We had massive respect for them and I get on well with all of them now, but they had the upper hand on us on the field and they brought a real physical edge to it."
Taking up the story of the Battle of Omagh, Jordan, says: "I was in the stand that day, I think I was injured thankfully! But the row nearly came up the stand to us - I recall a couple of the stewards getting involved and they weren't exactly helping to break it up!
"We were All-Ireland champions and we had beaten them in a replay the year so they were coming up to lay down a marker in the first game of the League. We had done a bit of celebrating so we weren't able to match their intensity.
"If we had been a bit fitter, it probably would have been left in play - we would have matched their big hits with our own big hits. But sometimes when a team can't match the intensity of their opponents it gets a bit niggly and it can spill over. That's what happened. It got pretty nasty."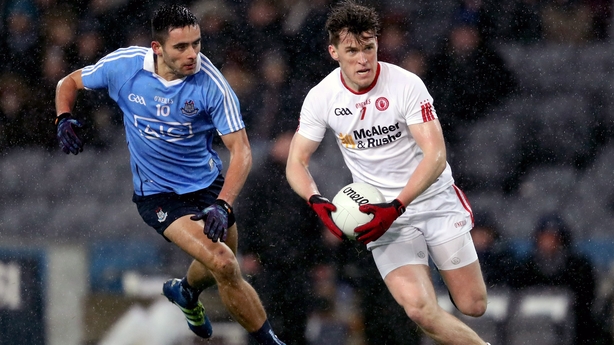 Twelve months later the same sides met again, this time in the first ever floodlit match at Croke Park in front of a packed house. Both sides were on their best behaviour, but Caffrey still managed to pick up a one-game ban for a tangle with Ryan McMenamin as the Tyrone defender left the field after a red card.
Pillar remembers that both teams went into the players lounge under the Hogan Stand after that game and not a word was passed between them. He said: "We were in one corner and they were in the other and not one player crossed the divide. That's the way it was at the time between us."
The 2008 All-Ireland quarter-final defeat to Tyrone signalled the end of Caffrey's time in charge of Dublin. In 2010 and '11 the Dubs under Pat Gilroy finally got back on top, beating the Red Handers in consecutive quarter-finals, in 2011 on the way to Sam Maguire.
They haven't played in the Championship since, but recent League games have been tough, tense and often low scoring.
Jordan said: "Tyrone would have brought the physicality and one of the things I admire about this Dublin team is that they never take a step backwards - it's never a case of 'sure this is just a League game, it doesn't matter if we lose'."
Live coverage of Kerry v Mayo in the All-Ireland SFC semi-final replay on The Saturday Game from 2.15pm on RTÉ One, with live radio commentary on Saturday Sport, RTÉ Radio 1 from 2pm.
Live coverage of Dublin v Tyrone in the All-Ireland SFC semi-final on The Sunday Game from 3.15pm on RTÉ2, with live radio commentary on Saturday Sport, RTÉ Radio 1 from 2pm.
Live blog on the day's football action on RTE Sport Online and the News Now App from 2pm on Saturday and 1pm on Sunday.
Highlights of all the weekend's GAA action on The Sunday Game on RTÉ2 from 9.30pm.