At the start of the year when anyone asked me how would Tyrone do this summer I said that they'd be beaten in an All-Ireland final.
Now I'm trying to do a wee bit of back-tracking! I'm able to make an argument for how and why Tyrone can win Sunday's All-Ireland semi-final against Dublin, but ultimately I have to tip the Dubs.
Dublin have the better footballers and the better players. I don't think the 2017 model is as good as the 2015 version, but I believe that if they play as well as they can that they'll win.
We talk a bit about the Big Four, but really Dublin are the Big One, then there's Kerry, Mayo and Tyrone in no particular order, with the rest jostling for the minor positions.
If you don't push up, Cluxton will just pick you apart and what's important is doing it at the right time.
The difference between Dublin now and two years ago is that their forwards aren't as frightening - and that's something that Tyrone can take heart from.
There's no one in that forward line that would frighten a defence in the same way that Bernard Brogan in his prime would have. They can still rack up 23 or 24 points in any given game, but they haven't got those killer individuals.
They get scores from all around the field, midfield, half-back and even the full-back line with Philly McMahon breaking forward.
A key for Tyrone is to win the goal-battle. If Dublin score more goals, I'm convinced they'll win and even if they break level it'll probably be good enough. If Tyrone can outscore Dublin in terms of goals they'll give themselves a great chance.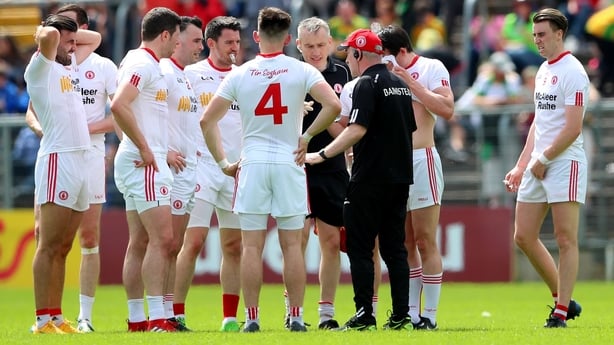 I do think that there's an All-Ireland in this Tyrone team and they might even win it this year - I'd love to see it happening. This September might come a little too soon for them though.
They have the right mix of players, with experience and younger players who have one or two full seasons behind them and the taste of disappointment in big games that helps focus the mind.
Only Sean Cavanagh is likely to retire at the end of the season and he'll be more missed for his leadership than anything else, so this is a team in a good place.
Tyrone come into this game on the back of a convincing win in an All-Ireland quarter-final and this is a good thing after what happened to this team last year against Mayo at the same stage.
I remember in 2002 we were beaten by Sligo in Croke Park so when we arrived for the '03 quarter-final against Fermanagh we were totally focused on giving a performance. We did that and I expect the same on Sunday.
What Tyrone do well is play a very, very structured game in defence and then they break with pace and energy.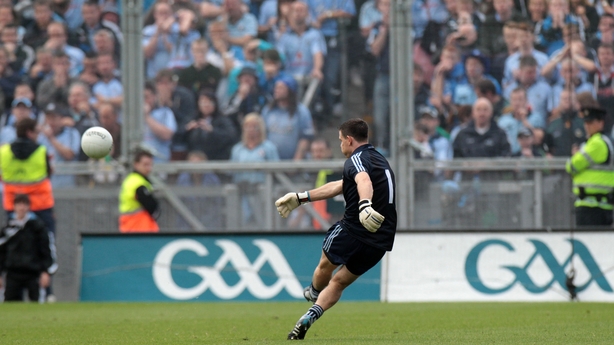 I feel the tactics will be to operate in five minute spells against Dublin kick-outs - push up for five minutes and then drop off for five minutes. It's very difficult to keep the press going for 70-plus minutes so this gives the players a breather while still leaving Stephen Cluxton something to think about.
If Tyrone get an attacking free kick, they'll take their time about taking it and get a lot of players forward. This means from the following kick-out they'll have bodies in Dublin's half of the field and make it more difficult for Cluxton to find his men.
If you don't push up, Cluxton will just pick you apart and what's important is doing it at the right time.
Dublin like to push up themselves, but I don't think they'll do it as much against Tyrone because they fear that if they don't win the ball, or at least slow down, the ball they'll be vulnerable to the quick attack.
As I say, there is definitely an All-Ireland in this Tyrone team. The big challenge is getting over Dublin - just like it is for every other county. They will be beaten eventually, it's just up to someone to do it.
The question of who is going to win between Kerry and Mayo is no easier to answer than it was this time last week before their brilliant drawn game.
My feeling is that Mayo left it behind them, particularly given the way that they dominated the first half and it was the scoreable frees that they gave away in that first period that kept Kerry in the game.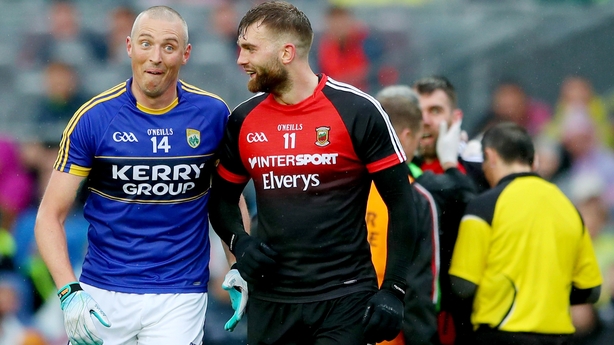 There were calls made on the line from both sides and some were right and some were wrong, but the decision to put Aidan O'Shea to full-back to mark the Kingdom's Kieran Donaghy was a wrong one.
I said in this column last week that the best way Mayo could combat Donaghy's aerial presence at the edge of the square was to put pressure on possession out the field and stop the high ball in. They did that and I think that's the main reason Kerry didn't hit high balls into Donaghy - it didn't have much to do with O'Shea.
Then at the other end of the field, where we saw Mayo had so much joy running at the middle of the Kerry defence, they were missing one of their most effective ball-carriers. I don't think it's a tactic we will see repeated in Saturday's replay.
Kerry defence wide open, Mayo need to take advantage of this. Surely Kerry will reorganise at ht

— Philip Jordan (@PhilipJordan7) August 20, 2017
The big question for Eamonn Fitzmaurice is how he can get some extra cover in front of his full-back line because they were taken for 1-09 from play the last day.
Coming into the draw Mayo were the more battle-hardened side. Kerry hadn't had a game of that intensity and I think it will stand to them. The Kingdom should be fit to step it up and win, but I'll admit that nothing will surprise me in this one!