Mayo and Kerry will have to do it all over again next Saturday after they played out a breathless All-Ireland football semi-final at a rain-sodden Croke Park.
We need your consent to load this SoundCloud contentWe use SoundCloud to manage extra content that can set cookies on your device and collect data about your activity. Please review their details and accept them to load the content.Manage Preferences
Both sides had chances to win it and on occasions it looked as though they were doing their best to lose it.
With the last kick of the game Bryan Sheehan, not long on as a substitute, took a free off the ground for Kerry from fully 55 metres out.
As he looked to get the distance, he got underneath the ball and it dropped short before referee Maurice Deegan blew it up.
This was a stone-cold classic and anyone with any interest in football will be eagerly looking forward to the replay. It shouldn't have come as a surprise - they were deadlocked in 2014 when the Kingdom won an epic second set-to at Limerick's Gaelic Grounds.
If the first half of this game was enthralling, the second half stepped it up in terms of pace, intensity and entertainment.
Mayo were on fire after the change of ends and four points from play put them four up, but were rocked back when Johnny Buckley got Kerry's second goal of the day, pouncing on the rebound after David Clarke made the first of two great saves from David Moran in another great display of shot-stopping from the Mayo goalkeeper.
From here, it was white-knuckles to the close, with neither side willing to blink.
This Mayo team simply refuse to quit, so when substitute Paddy Durcan fired over the equaliser in the fourth minute of stoppage time there was no-one surprised.
This game was compelling from before the first whistle. The questions swirled particulalry around match-ups and Aidan O'Shea's positioning.
The answers weren't long in coming. O'Shea started in the middle for Mayo, but lost the throw-in. Kerry couldn't hang on to it though and Stephen O'Brien saw it bounce off him and over the sideline.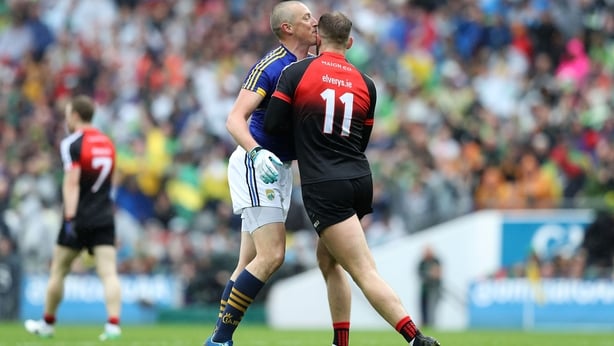 Donal Vaughan followed Kieran Donaghy for a few minutes, but then O'Shea rumbled in to the edge of the square to mark the Kerry target man. Only one high ball went in between them in the first half, won by the Mayo man.
Donaghy was running out in front though and won everything that came his way, including the ball that saw him set up Stephen O'Brien for the goal that dragged the Kingdom back into this game after a slow start.
Current Footballer of the Year Lee Keegan was stationed at centre-forward, not his usual wing-back or even the midfield spot many people predicted in the build-up.
Mayo boss Stephen Rochford is known as a 'rabbit-out-of-the-hat' manager and he was certainly thinking outside the box here.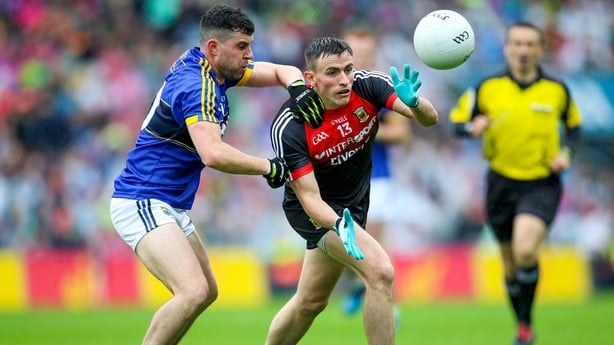 Make no mistake, this was fascinating stuff. Straight up 15 v 15, no sweepers with both sides pressing high up the pitch. Intensity was the word of the day.
Mayo shot out of the blocks and drove hard at the centre of the Kerry defence. Andy Moran had the ball in the net after four minutes and Mayo led by 1-02 to 0-2 before O'Brien answered with a green flag for the Kingdom.
Moran was electric in front of 66,195 paying fans on the Jones Road, and he bagged 1-03 before the break.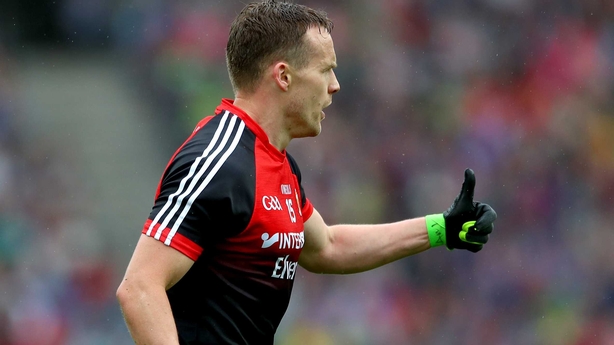 Colm Boyle got Mayo's second on 18 minutes, ignoring two chances to pass to the unmarked Cillian O'Connor, backing himself to jink inside his man and bury the ball past Brian Kelly.
The Green Above the Red surged into a 2-05 to 1-04 lead and it looked as though they were going to cut loose as the Kerry keeper couldn't find a blue jersey from his restart.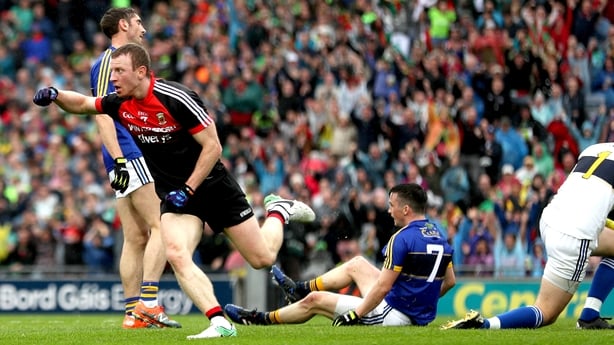 Then the tide started to turn and the Munster champions closed out the half with the last four points and the sides went in level at the break, 2-05 to 1-08.
Moran continued to light the way for Mayo after the break, adding another three from play in a stand-out display and the O'Shea-Donaghy sideshow continued.
But in the end there was no breaking the deadlock and it's back to Croke Park next weekend for the second installment.
Scorers for Kerry: Paul Geaney 0-07, f4; Stephen O'Brien, Johnny Buckley 1-00 each; James O'Donoghue 0-03, 2f; Killian Young, Kieran Donaghy, Barry John Keane, Paul Murphy 0-01 each.
Scorers for Mayo: Andy Moran 1-05; Cillian O'Connor 0-04, 1f; Colm Boyle 1-00, Tom Parsons 0-02; Jason Doherty, Donal Vaughan, Paddy Durcan 0-01 each.
Kerry: Brian Kelly; Shane Enright, Mark Griffin, Killian Young; Peter Crowley, Tadhg Morley, Paul Murphy; David Moran, Anthony Maher; Michael Geaney, Johnny Buckley, Stephen O'Brien; Paul Geaney, Kieran Donaghy, James O'Donoghue.
Subs: Jack Savage for Michael Geaney 21 mins; Jonathan Lyne for Griffin HT; Jack Barry for Maher HT; Darran O'Sullivan for Buckley 54 mins; Barry John Keane for O'Donoghue 61 mins; Brian Sheehan for Donaghy 72 mins.
Mayo: David Clarke; Chris Barrett, Aidan O'Shea, Brendan Harrison; Colm Boyle, Donal Vaughan, Keith Higgins; Séamus O'Shea, Tom Parsons; Kevin McLoughlin, Lee Keegan, Diarmuid O'Connor; Cillian O'Connor, Jason Doherty, Andy Moran.
Subs: Paddy Durcan for Boyle 42 mins; Stephen Cohen for Séamus O'Shea 54 mins; David Drake for Diarmuid O'Connor 67 mins; Conor Loftus for Doherty 73 mins.
Referee: Maurice Deegan (Laois)