Mayo have a decades old reputation as everyone's 'second team', an admittedly dubious accolade which is common to perennial bridesmaids in all sports.
Only this week, Kerry manager Éamonn Fitzmaurice said he would love to see Mayo win the All-Ireland, provided Kerry or himself were somehow not involved. Mercifully, he stopped short of saying it pained him having to organise a team to beat them.
His former teammate Darragh Ó Sé wrote in his Irish Times column that every Mayo person he's ever been acquainted with has been irked by this phenomenon and feel patronised by it. 
"I played Mayo loads of times, and I have Mayo friends and people I do business with up there. And all the time their attitude to me when I would say something complimentary about them was, "are you taking the piss here or what?" he wrote.
Those Mayo folk who've grown impatient with soppy 'compliments' of this nature might (or might not) be heartened to learn that opinion on Mayo has diversified thanks to their decade in the spotlight.
For many of the crankier and contrarian-minded neutrals out there, the romance of Mayo's endless quest to reclaim Sam Maguire became passé some years ago. 
After all, if a Hollywood screenwriter had written the story of Mayo in the modern era, he'd have given us the catharsis about four finals ago, the series would have drawn to a satisfactory close and we'd have gotten on with our lives. Now, some viewers have grown decidedly weary of the storyline. 
This cohort, in the words of one acquaintance, just want Mayo to "go away for a bit" and they certainly don't want them winning the All-Ireland this year.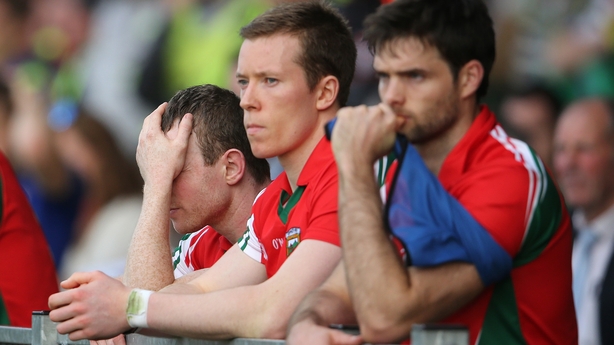 There is another less hostile and very different group of neutrals who enjoy the romance of Mayo's quest for Sam so much that they don't wish it to ever end.
And they know that the one thing that will definitively end that quest is not Mayo spending years in the doldrums, but Mayo actually going and winning the All-Ireland. 
As a result, this grouping evince, at best, mixed feelings about the prospect, fearing that Gaelic football will thus lose a precious and gripping narrative, one perhaps worthy of an ESPN documentary in a couple of years time. 
Then, there is another altogether more malicious grouping, who take a straightforward sadistic glee in Mayo's repeated torment in All-Ireland final day. 
Admittedly, the ESRI has yet to compile any detailed analysis on this set but qualitative research undertaken by this writer indicates they are especially prominent among hardcore Dublin supporters for whom familiarity has indeed bred contempt, as well as among supporters of their western rivals, Galway and Roscommon. 
Mayo have an oddly rancorous relationship with the latter especially, and this was showcased before a wider national audience this year. As a result, the outside world now knows the troubled history of Ballaghaderreen and we can only but offer thanks that war was dodged on the issue.
Certainly, early in the second half on August 7th, there was an unmistakable sense that Mayo were taking a great tribal satisfaction in humiliating Roscommon.
Had a noisy segment of the Rossie fanbase not spent much of the drawn match booing Andy Moran's every feint and shimmy then Mayo might have eased off and declared their innings a bit earlier.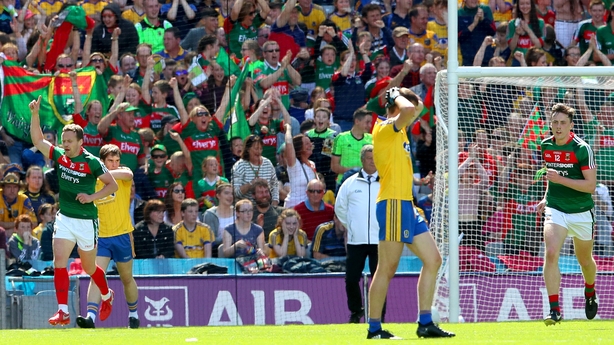 The suspicion is that a large proportion of Roscommon fans will scorn western solidarity altogether and root for any of the three remaining teams above Mayo.
And plenty of Mayo supporters would prefer it that way.
When the Clare hurlers won the All-Ireland title in 1995, neutrals everywhere rejoiced that one of the hurling little guys was getting a rare chance to wrap his fingers around Liam.   
By 1997, Ger Loughnane and his Clare team were despised and resented by their rivals. In two short years, they had somehow gone from charming upstarts to the evil empire itself. It was the ultimate measure of their achievement.
When Clare beat Tipperary by a point to win the 1997 All-Ireland final - a victory which inspired far less goodwill among neutral spectators - the Clare players said afterwards it represented a far more satisfying triumph. 
When Mayo finally do win the All-Ireland senior football title, one of the casualties will doubtless be their status as the neutral's 'second team', and their standing as Gaelic football's answer to Bambi's Mum.
For Mayo fans, that can't come quick enough.   
Live coverage of Kerry v Mayo in the All-Ireland SFC semi-final on The Sunday Game, RTÉ Two from 2.45pm.
Live radio commentary on that game plus updates on Kerry v Cavan in the MFC semi-final on Sunday Sport, RTÉ Radio 1 from 2.00pm.
Live blog on the day's football action on RTE Sport Online and the News Now App from 1pm.