The very first seconds of Sunday's All-Ireland semi-final between Kerry and Mayo are going to be vital and fascinating to watch.
Believe it or not, the identity of whoever wins the throw-in from referee Maurice Deegan is going to have a major say in the way this game goes.
Aidan O'Shea has been Mayo's main man this season and whenever he makes a positive impact on a game the fans really respond.
He has been playing largely in the forwards, mainly across the half-forward line, in their Championship campaign to-date, but for the throw-in at the start of each half he has been in midfield.
David Moran is the most complete midfielder in the game at the moment, dominant, strong in the air and able to kick a score
He has also contested virtually all of the hop-balls that have been awarded in Mayo's Championship games and I don't remember seeing him lose a single contest.
There's absolutely no doubt in my mind that Kerry will be well aware of that and that they will be planning accordingly.
David Moran is the most complete midfielder in the game at the moment, dominant, strong in the air and able to kick a score, and I expect to see him going up against O'Shea for the first ball. The winner of that contest will have struck a major psychological blow.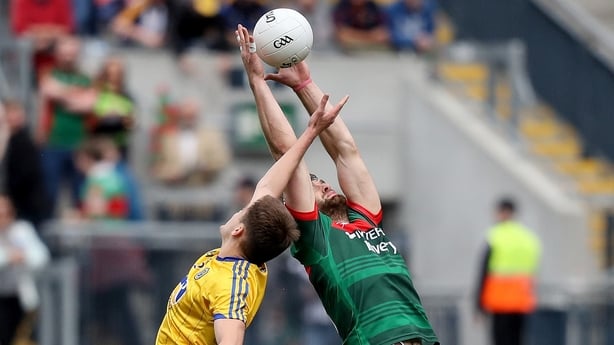 When I played with Tyrone and we were up against Kerry we knew that Darragh Ó Sé was their main man and we used to do everything in our power to keep the ball away from him because of what he could do when he had it and because of what it did for his team mates and fans.
With kick-outs, if Darragh was on one side of the field, we'd go to the other. For throw-ins, we'd either try to catch it ourselves or make sure he didn't - if Kerry won the break, that was fine, so long as he didn't win it cleanly.
Every little contest in a game of football when the stakes are as high as they are on Sunday is important. If you see one of your team mates win a 50-50 ball it is inspirational, even though it might only seem like something small from the outside.
Owen Mulligan scored his famous against Dublin in the 2005 All-Ireland quarter-final replay and everyone remembers Muggsy selling dummies and hammering the ball home. But as much as that, the Tyrone players remember Stephen O'Neill putting his body on the line to win a breaking ball in the middle of the field to set up the attack in the first place.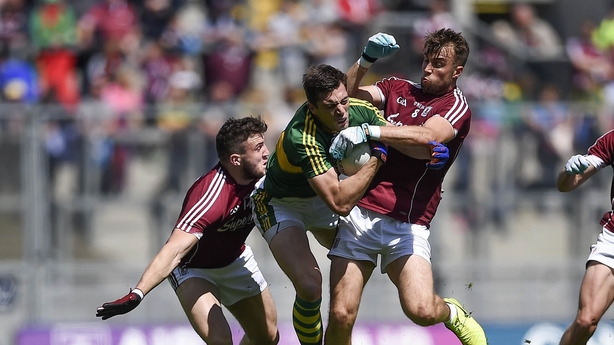 The main thing Mayo's management will have been thinking about since their big replay win over Roscommon the last day will be how to deal with Kerry's full-forward line.
They haven't been able to deal with Kieran Donaghy in the past and a lot of thought will have to go in to who they put on him. Brendan Harrison will probably take Paul Geaney and Keith Higgins will go on James O'Donoghue.
Brendan Cafferkey is their big full-back, but he didn't start the last day and he has struggled on Donaghy before. Maybe it's the time for a bit of outside-the-box thinking and someone like Barry Moran or even Seamus O'Shea might be given the job.
If they take the belt-and-braces approach they can try to play a sweeper in front of Donaghy, but we have seen time and again that Mayo don't seem to suit a sweeper system and play better when they go man-for-man.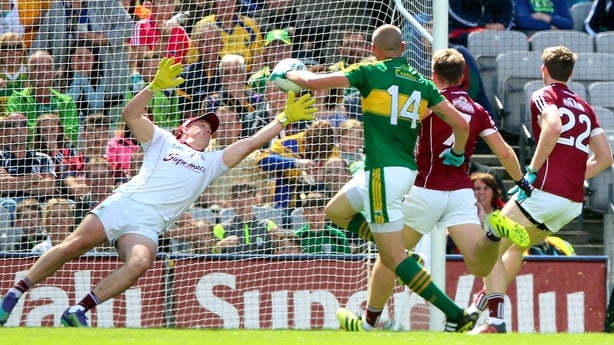 Certainly, Mayo's best chance is if they do exactly like they did against Roscommon in the quarter-final replay - go man-on-man and run hard because there are weaknesses to be exposed through the middle of Kerry's defence.
They'll also be trying to push high up the field and press goalkeeper Brian Kelly's kick-outs. If they slow them down this will allow them time to funnel men back into defence, put pressure on the pass inside and limit Donaghy's influence.
Looking at Mayo this summer I wouldn't have given them much hope of winning this game, but their performance against Roscommon gives them hope because it suggests that they might be back to their best.
Having said that I still expect Kerry to win because of their ability to win more ball around the middle third of the field. If they can secure enough ball they have the forwards to do damage.
Live coverage of Kerry v Mayo in the All-Ireland SFC semi-final on The Sunday Game, RTÉ Two from 2.45pm.
Live radio commentary on that game plus updates on Kerry v Cavan in the MFC semi-final on Sunday Sport, RTÉ Radio 1 from 2.00pm.
Live blog on the day's football action on RTE Sport Online and the News Now App from 1pm.