When Kieran Donaghy was sent in off the bench with 11 minutes remaining in the 2014 All-Ireland semi-final against Mayo he looked like a gunslinger heading into his last showdown.
At 31-years-old he had fallen out of favour with manager, former team-mate Eamonn Fitzmaurice, and was spending most match-days sitting in the stands with the rest of the idle substitutes.
Mayo, despite being down to 14 men following Lee Keegan's first half dismissal, led by five points and Kerry's race looked run. It was a last throw of the dice for the Kingdom and one final appearance for the 2006 Footballer of the Year before he hung up his boots.
"I was in a bad place, I'll be honest," said Donaghy. "My confidence was low. I was kind of half doubting myself could I still go on and help the team.
"What I was thinking was, 'slip off into the sunset whenever we got beaten or won it'. I was just going to go off into the sunset afterwards."
Of course, the next 11 minutes happened and Donaghy was a footballer revitalised. He didn't actually score that day, but he turned Mayo full-back Ger Cafferkey inside out and set up James O'Donoghue, who would go on to be named Footballer of the Year, for a vital goal.
Whenever I beat him playing golf and he has to hand over the money the look on his face is priceless! - Tomás Ó Sé
Kerry drew, beat Mayo in the replay, took care of Donegal in the final with Donaghy scoring a crucial 1-02 in a 2-09 to 0-12 win and the man they call Star was centre stage again.
"I never spoke to him about it, but I know it would have been very easy from his point of view to step away," said RTÉ football analyst Tomás Ó Sé, who would also be a close friend and golfing buddy of his former team-mate.
"I think since then Eamonn Fitzmaurice has said that he possibly should have brought him in earlier in the year."
Now, at 34-years-old, he continues to enjoy his Indian summer and once again faces Mayo in an All-Ireland semi-final. Be certain that the Connacht team's manager Stephen Rochford has spent much of the past two weeks laying down a plan to limit his influence at the edge of the square.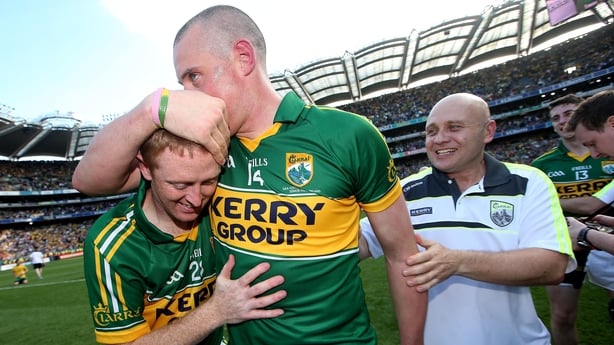 His abilities were on display at Croke Park again in the Kingdom's more recent visit to Dublin.
In the All-Ireland quarter-final against Galway his team-mates hit him with high, diagonal balls and of the five that came his way in the first half while this game was still a contest he won them all. He scored 1-01 and was fouled for a converted free to finish his side's top scorer.
Quick, accurate ball meant that he was able to get the better of the Tribesmen's full-back David Walsh and evade the attentions of sometimes-sweeper Liam Silke.
Donaghy is now the at the pointed end of Kerry's attack, the heart of one of the most dynamic full-forward lines in the business.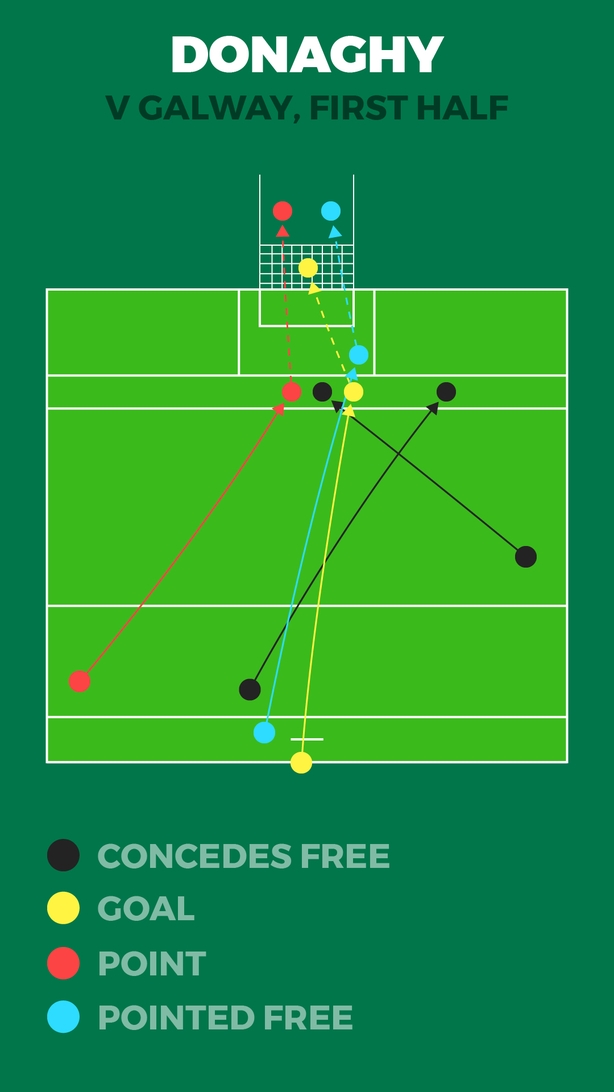 He was never the quickest player and he never covered the most ground. But he never had to and around him now he has Paul Geaney and James O'Donoghue to do his running for him, as they feed off the clever passes he distributes with his quick hands.
"He's a confidence player and when he's going well, he's really going well," noted Ó Sé. "He's the sort of player that causes consternation - whenever he's in a game the other team has to think 'who the hell is going to mark him, do we put two men on him?'.
"It's a great sign of a man that, at the age he's at, that he's playing the football of his life and is in the shape of his life. From 2006 to 2017, football is so completely different in style and he's still doing the business.
"Mayo are going to have to have a plan for him. They are going to have to play a sweeper, and that's going to open doors for Geaney and O'Donoghue."
Donaghy was known in Kerry as a tidy basketball player and a decent club footballer, though few people ever thought he'd make a serious impression with the Kingdom.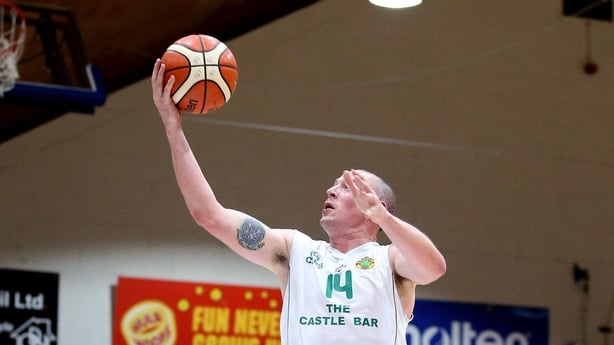 In 2004 he played against his county in the TG4 reality television series The Underdogs, aimed at unearthing undiscovered inter-county talent. The following year he was drafted into the Kerry side, but he remained a bit-part player.
It wasn't until Jack O'Connor's decision to deploy him as an old-fashioned target man on the edge of the square in a qualifier game against Longford in Killarney when their backs were to the wall following an uninspiring Munster final defeat to Cork that things really began to lift off.
He set up three goals that day, ended up being crowned Footballer of the Year and won the first of his four All-Ireland medals and three All Stars.
In the decade that followed Donaghy developed a double-act with Colm Cooper that was unstoppable when the right kind of ball was sent into the little-and-large full-forward line.
"When Jack threw me in at full forward back in '06, Gooch kind of took me by the hand," he explained. "We never had a big sit-down in some coffee shop. We just went out there onto the field and went through how this thing could work.
"It'd become almost telepathic. I might be struggling in a game and he'd just shoot me this look, maybe gesturing with the hands to stay calm, be patient, stick with it. Other times then he'd give you this stern look which told you something needed to change and that it had to happen right now."
Since Cooper's retirement earlier this year, he has been working alongside Geaney and O'Donoghue and the change-over has been virtually seamless.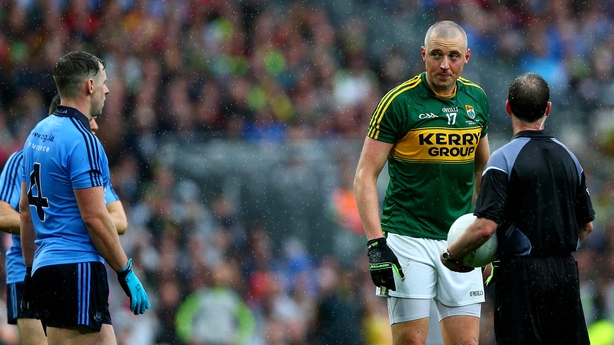 A player who has spent a lot of time in Donaghy's company on the field is Dublin defender Philly McMahon, with the pair sharing a series of big-game tussles in recent years.
"Physically, he's tall, he's an aerial threat, he's hard to get around and he does get the ball out in front a little bit, which is unusual for big forwards," explained the Ballymun man.
"In the last game we played, we were expecting some high balls in and he was actually running out in front. Maybe that was to draw me out so they could hit balls in behind me, or maybe he was just changing it up a bit."
The last word on the subject goes to Ó Sé and perhaps it explains why Donaghy tried so hard to make his breakthrough initially, kept going when things were against him as he hit his thirties, and why he has achieved as much as he has - he's a born winner.
"He's so competitive," said Ó Sé. "And if you think he's competitive on the field, you'd want to see him off it. We play golf occasionally, he plays off 12 and is a complete bandit, and whenever I beat him and he has to hand over the money the look on his face is priceless!"