Michael Duignan thinks that Waterford will have to do without both of their star Gleesons in the All-Ireland final showdown with Galway on 3 September.
Conor Gleeson was sent off for striking with the hurley in the 4-19 to 0-20 win over Cork on Sunday and now faces an automatic one-match ban.
The situation of current Hurler of the Year Aussie Gleeson is more complicated - he appeared to pull the helmet off the Rebels' Luke Meade in an incident that wasn't spotted by referee James Owens.
If the referee doesn't mention the incident in his report, Croke Park's Central Competitions Control Committee (CCCC) could look in to the case and this may lead to an All-Ireland final ban.
"It's terrible to be sitting here this morning talking about these things because it's so long since they won an All-Ireland," said Offaly hero Duignan, speaking to RTÉ Sport.
"Conor Gleeson's one was minor enough, but he did slap someone, it was silly and I'd say he's disgusted.
"The linesman brought the ref's attention to it and they'll be saying he struck with the hurl. Waterford will say it was only minor, a tap on the shin, but it's unlikely to be overturned.
"I think with Austin Gleeson, it depends on what the referee says. If they look back on the incident I think they have no option but to suspend him."
There has been a number of high profile cases involving pulls on face masks in recent weeks. Waterford's Tadhg de Búrca missed the win over Cork after his red card for that offence in the quarter-final win over Wexford.
Galway's Adrian Tuohy avoided a ban after appearing to do something similar in the Tribesmen's semi-final win over Tipperary.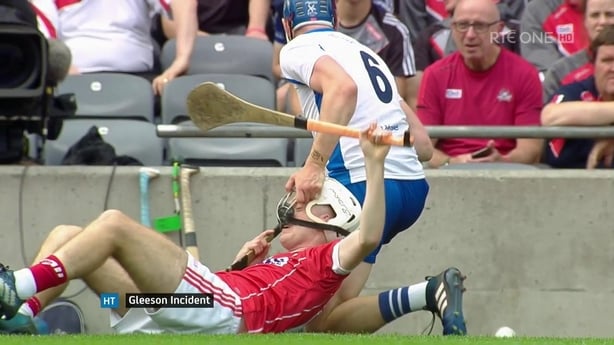 Duignan knows what it is like to walk the disciplinary tightrope, having had a near miss in 1998.
He struck Clare's David Forde in the second of Offaly's epic three-game All-Ireland semi-final saga with Clare, but referee Jimmy Cooney took his name rather than sending him off, clearing him to play in the third game and the final win over Kilkenny.
"Back in 1998 I pulled a stroke in a semi-final against Clare and I should have been sent off," admitted Duignan. "The referee took my name, in those days there were no cards, and let me away with a warning.
"Because of that I was free to play for the rest of the year. The relief that I felt because I should have been sent off. I went on to win an All-Ireland that year and my only All Star so I know how the system can work in your favour and how it can work against you."