Waterford manager Derek McGrath says suspended sweeper Tadhg de Búrca was his team's inspiration in their All-Ireland semi-final win over Cork at Croke Park.
De Búrca had to sit out the game following his straight red card in the quarter-final defeat of Wexford, though the saga rumbled on until the early hours of Friday morning with a desperate, last-gasp and ultimately unsuccessful visit to the GAA's Disputes Resolution Authority.
"We spoke about it as a group on Friday night, again on Sunday, and we weren't sure whether we should," said McGrath." We were dealing with a young lad who, I wouldn't say is reserved, but he's everything we're trying to be as a team.
"He's a great lad, he's tough and we had a tough couple of weeks with him. He showed great fortitude in the two weeks and we did it for him - it was motivation, not in a corny, way, because of what he contributed to this group.
He is at the centre of everything we are trying to do – he is a pure hurler.
"Getting him involved in the final was something we wanted to achieve"
"It wasn't a distraction; we were just trying to do the right thing. It was taxing coming up and down to Dublin and we immersed ourselves in it."
@"Up for the Match will be different anyway" - Derek McGrath looks forward to a unique All-Ireland final pairing #SundayGame pic.twitter.com/6ZomVTjvPw

— The Sunday Game (@TheSundayGame) August 13, 2017
McGrath was on a high after the win over Cork and he struggled to put into words the feeling of guiding his team into an All-Ireland final.
The Deise, who finished with 14 players, blew the 13-man Rebels out of the water.
"Hugely satisfying, hugely," he explained. "A mixture of elation, relief and anticipation of what's to come at this stage. All those emotions, joy, ecstasy, it was everything to us. Very, very satisfying.
"They did well. I'm not sure what the score was when the (first) sending-off occurred, to put balance on the suggestion that it opened up after that, but we were the ones creating the chances albeit the theory being we set up defensively.
"Sometimes a sending off can be counter intuitive, it can work against you. It worked well for us – the pace seemed to open up we were in a situation where we could push up on their  backs.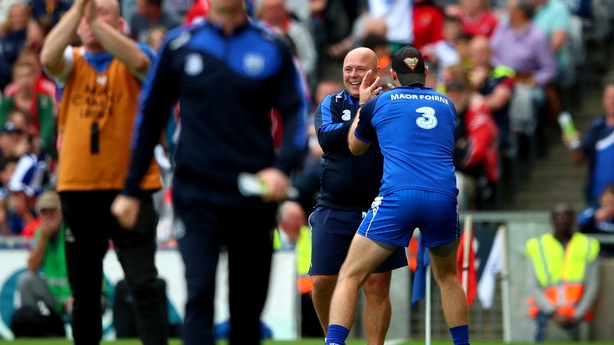 Waterford now take on Galway in the All-Ireland final on Sunday, 3 September. Looking ahead, the Waterford boss said: "With respect to the traditionalists, it is the final that everyone wanted. Up For the Match will be different anyway."
Pat Hartnett was the initial member of Cork's backroom team to be sent out to face the media after the match, later joined by manager Kieran Kingston, and he was keen to congratulate Waterford on their win and deflect from the significance of the red cards.
"Firstly I'd like to say that the better team won on the day," he said. "That has to be acknowledged. We were ahead and then they got away from us so I wouldn't like to dwell on the red cards."
"We didn't do ourselves justice in some departments, though progress has been made this year. 
"Alan Cadogan has been quite sick with cellulitis, Luke Meade had a broken finger - they're not excuses, they are facts.
"The game was swinging to-and-fro and the team that makes the least mistake wins. At half-time having not played to our best we were still in the game, but again Waterford deserved to win."