Galway manager Micheál Donoghue says his team have the experience to handle the pressure of playing in next month's All-Ireland final.
The Tribesmen beat Tipperary in Sunday's semi-final at Croke Park to move into the Liam MacCarthy Cup decider for the third time in six seasons.
Most of his players know what it's like to lose on the big day, having been turned over by Kilkenny in 2015 and after a replay in 2012.
He's hoping that this will count in their favour when they take on either Cork or Waterford on the 3 September showdown as they look to end the county's All-Ireland drought, which stretches back to 1988.
"I think it's a huge help," said Donoghue, who guided Galway side Clarinbridge to an All-Ireland club title in 2011.
"As I said, they have massive experience but I think the thing with them is just that they have something there, they just trust the process. Every game that passes I just think they are getting better and better and more confident. They are in a good place.
"It was said already, the fact that maybe Tipp are gone, Kilkenny gone, the fact we have been in previous finals and is now going to be our time? So you are going to have people asking the questions 'is now the best opportunity we are going to have?'
"I know there is going to be a lot of euphoria and a lot of hype now again and going on about it being our best chance and so on but my job and the rest of the management is just to bring the boys back and make sure we don't change or deviate from what got us here.
"We enjoyed Sunday night but we'll be back in at it and obviously there are a lot of learnings for us to take from the game and to improve on for the next day," said Donoghue.
"I've alluded to it many times, they are driving it themselves. They have a huge hunger, a huge desire. We keep challenging them and saying to them, the good experiences and the bad experiences, they have to draw on those. Hopefully that will stand to them going forward."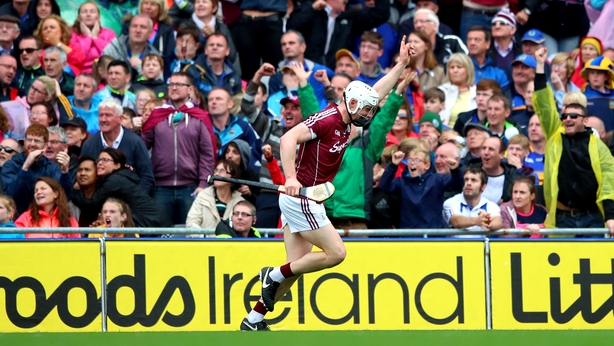 Galway have the luxury of an extra week of preparation and the chance to watch next Sunday's All-Ireland semi-final between Munster champions Cork and Waterford.
The Tribesmen will, in all likelihood, go into the decider as strong favourites given their performances this year and the League title they won back in May.
"It's grand now to be in the final and to go watch them shoot it out next week," noted Donoghue. "It's hard to know how it will go.
"I think Cork's year is very similar to the year we've had. I think they are in great shape. But I think Waterford have massive experience as well, so I think it's going to be a real interesting affair, and we can sit back and watch them."