Jim Gavin believes his Dublin team are 'gaining momentum' at just the right time of the season as they build up for a crack at winning three All-Ireland titles in-a-row.
The Sam Maguire holders blew Monaghan out of the water at the quarter-final stage, easing to a ten-point 1-19 to 0-12 win at Croke Park, and move into an All-Ireland semi-final against Tyrone on 27 August.
"From a management point of view you can see that the team is gaining momentum at the right time of the year," he said.
"We're just happy to win a quarter-final and be into a semi-final. We knew going into the game that Monaghan were battle-hardened and the result is a reflection of the respect we gave Monaghan.
"We prepared very well and I thought that we played, in the first half, very well. The team looked controlled and composed and went in deserved leaders at half-time." This game was as good as over by the break, with the Dubs 0-11 to 0-03 ahead.
Tyrone hammered Armagh in their quarter-final and will offer a serious step-up in class for the Dubs.
Gavin isn't worried that his side haven't been tested at this stage, pointing out that the work they do away from Croke Park and the television cameras is preparation enough to take on the biggest and best teams.
"The preparation the last two weeks was very good," he said. "There has been a lot of work done away in the shadows. You saw when Monaghan did get a bit of a run that they have the capacity and capability to take scores, but our team defence was very strong.
"We'll have to have our 'A' game against Tyrone the next day. 1-11 from play and a lot of wides is something to work on."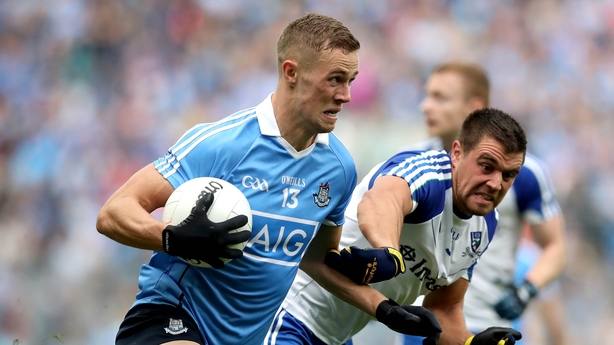 Diarmuid Connolly, who is currently serving a 12-week ban for putting his hands on linesman Ciaran Branigan during the Leinster Champion win over Carlow, will be available for the semi-final.
Gavin was quizzed about this, though he refused to be drawn, pointing out that former All Stars Paul Flynn and Michael Darragh MacAuley were sprung from the bench against Monaghan because of the good form they were showing in training games.
Connolly's suspension runs out on the eve of that game so we won't have the chance to play a competitive match, either with club or county, before the ball is thrown in against Tyrone.
Monaghan manager Malachy O'Rourke acknowledged that the one-sided scoreline was a result of his team playing badly and the Dubs shooting out the lights.
He explained: "Coming up we knew that we had to play way above what we've produced this year, but we still felt it was with us to do that.
"We wanted to make sure we set ourselves up well because we've seen Dublin get early goals and end games early. We never really got that and that's the most disappointing thing.
"We never really challenged them. We had a lot of possession, but had a lot of turnovers, I think it was 15, and our choice of play and execution was off."