How Gaelic football has evolved in recent times has made playing in defence a more difficult task, according to Galway manager Kevin Walsh.
Walsh's assertion came after it was put to him that both Galway and Kerry are somewhat shaky at the back ahead of Sunday's All-Ireland SFC quarter-final between the counties at Croke Park (Live on RTÉ2).
However, the two-time All-Ireland winner took a more universal approach in his response to RTÉ Sport.
"The talk now in most counties is that the backs are not good enough, that's the way the game has gone," he said.
"Defenders are now attacking from all sides and consequently defenders are sometimes left isolated.
"It's a difficult place to play.
"Corners forwards in the past were running in straight lines on their own side of the pitch. That's all changed now, they are criss-crossing all over the place.
"It's a big challenge for us but it's an opportunity to see how far we've come"
"Also, the counter-attacks are so quick now that you don't get enough bodies back."
Walsh was pleased with the way his side responded to their Connacht final disappointment when Donegal were put the sword last weekend and is confident of putting it up to the Kingdom at GAA HQ.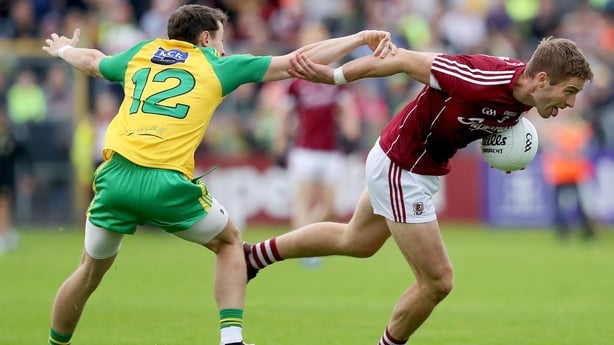 "We were expecting an improvement against Donegal and we got one and now we aim to deliver another good performance against Kerry," added Walsh.
"Some people thought we would fade away against Donegal, but we didn't. It was the first time this group has had a chance to redeem themselves in the championship.
"The aggression levels were definitely higher than they were in the Connacht final.
"Kerry are the league champions and are a top-two side. In their last game (Munster final win over Cork) heir conversion rate was really high - it was something like 42 minutes before they had any wide. They are a seriously talented group of players.
"It's a big challenge for us but it's an opportunity to see how far we've come. We will strive for a level of performance that gives us a chance of competing.
"It's essential that we all work together and get in on the dirty ball, win possession and then ensure that our possession rate is high."
Kerry v Galway (2pm) and Roscommon v Mayo (4pm) will be live on RTÉ2 and RTÉ Radio 1's Sunday Sport with a live blog on RTÉ Sport Online and the News Now App. Highlights of all the weekend's GAA action on The Sunday Game from 9.30pm on RTÉ2.