Sean Cavanagh is a few years younger than me but because he was such a talent we made our debut the same season. That was 2002 when I was 22-years-old and he'd only just turned 19.
He had been the main man on the minor team that won the previous year's All-Ireland title and being from the same club I knew all about him.
I used to travel to training in a car with Collie Holmes and Cormac McAnallen and Sean would hop into the car with his big smiley face, a can of Coke and a couple of Mars bars.
Football wasn't as serious then as it is now, but even at that Cormac used to look at him with disgust on his face - he couldn't believe someone in a county panel would eat like that! I always used to get a great laugh out of it.
That's just Sean all over; never lacked confidence and always backed his own ability.
I'm a long time retired now so I don't go training with Sean, but I can guarantee you that he doesn't eat many Mars bars or drink cans of Coke. He looks after himself brilliantly and he's in unbelievable shape.
The fact that he has been one of the best footballers in the country since he made his debut 15 years ago and he's still at the very top speaks volumes about his attitude to the game.
We grew up not too far apart and he only lives over the road from me now. I can't tell you the amount of times I'll see him out on the pitch in the Moy on his own just practising the skills of the game. Football is his life and he's totally dedicated to it.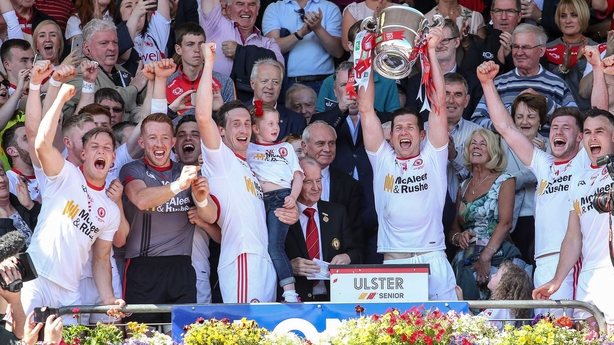 On Sunday he captained Tyrone to the Ulster title in what was his 87th Championship appearance. Only Stephen Cluxton and Tomás and Marc Ó Sé are ahead of him on 88.
There's even a chance he could take the record on his own if Tyrone play in the All-Ireland final this year and I know that captaining his country to lift Sam Maguire is a major motivating factor for Sean.
He has three All-Ireland medals and has been playing inter-county football for 15 years - he's not hanging around to win another Ulster.
When I was retiring the decision was easy in one way because I knew that we were a good bit away from challenging at the top again. Sean knows that this team aren't too far away and he won't want to miss out on the chance of one last big win before he walks off the stage.
Sean always carries himself with confidence - he believes that he's the best player on the team and he believes that his team is the best there is. That's infectious and the other players start to buy into it.
He made his debut in the 2002 drawn Ulster Championship game against Armagh, I started in the replay, and he scored 1-02 against the team that went on to win the All-Ireland, with his late goal giving us a chance to win it.
That's just Sean all over; never lacked confidence and always backed his own ability.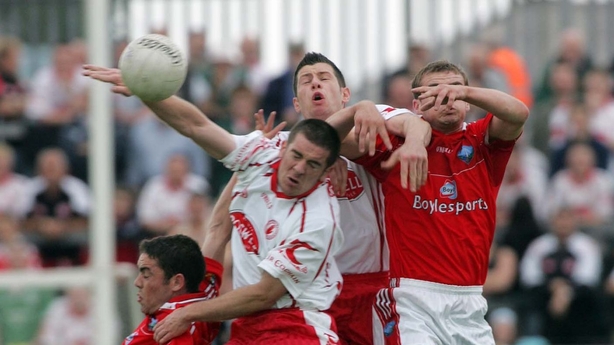 Not many people might remember him as a corner-forward, but that's where he started with Tyrone and he was well able to do a job there. The following year we were playing Donegal and Mickey Harte moved him to midfield after giving us a bit of a bollocking at half-time.
We won and, of course, Sean did well around the middle of the field and afterwards, still only as a 20-year-old, he came out and gave an interview saying he was surprised it took Mickey until then to move him!
People say that Cluxton changed the way the game is played, but I would argue that Sean has changed the game as well. He played for a long time in midfield, but he wasn't about plucking balls out of the air - he was about pace, work-rate, getting back to help in defence and joining the attack when it was needed.
In the drawn 2005 All-Ireland quarter-final with Dublin Ciaran Whelan dominated the first half, but Sean was the man after the break and, to me, that was the old-style midfielder coming up against the new.
In 2008 Stephen O'Neill was gone off the panel for most of the year, Owen Mulligan was struggling with injury and Peter Canavan was retired so Mickey moved Sean into full-forward, alternating to wing-forward.
I know he loves being around the middle of the field, involved in the action, so it would have taken a lot of self-control and discipline for him to stay inside when needed, but that's the trust Mickey has in him and his own attitude, which always puts the team first.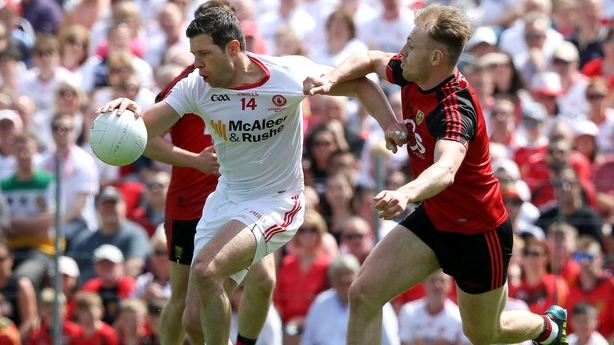 In 2008 he was heroic for us - man of the match in the All-Ireland final win over Kerry and a convincing Footballer of the Year, no debate. He carried us on his back at times and and there's no way we'd have been in the final, let alone won it, without him.
Now his role has changed again. He might not be the main man in terms of his contribution from play, but what he brings in terms of leadership can't be underestimated - he leads and the rest follow.
He plays closer to the opposition goal now, sometimes moving out for kick-outs, and his tackling, with those big, long, swinging arms of his, remains a hugely underestimated part of his game.
And he still has that famous Sean Cavanagh shuffle, which we've all seen so often. I must've seen it 10,000 times in training and I always knew it was coming but he still managed to sell it and go past me. I'm hoping we can see him skin plenty more opponents with it over the rest of the season.