Michael Duignan believes that Galway's experience of going close to glory in Croke Park in recent seasons could help them to beat Wexford in Sunday's Leinster hurling final.
The Tribesmen face a Wexford team playing in their first provincial decider since 2007.
"Over 50,000 tickets have been sold already. It's brilliant to see that level of interest in a Leinster final," said the RTÉ hurling analyst.
"I was really interested in Davy Fitzgerald's comments during the week where he said that when he took over he loved the challenge and there was no reason that Wexford shouldn't be promoted or in a Leinster final.
"I think that drive and spirit is going to be evident on Sunday but whether it's going to be enough or not against Galway...
"There are still 11 or 12 of the Galway team that were beaten in the 2015 final starting on Sunday.
"They were beaten by a point in the All-Ireland semi-final last year.
"So they have huge big-day experience in Croke park and probably a greater spread of scorers in their forwards, which may tip the balance in Galway's favour."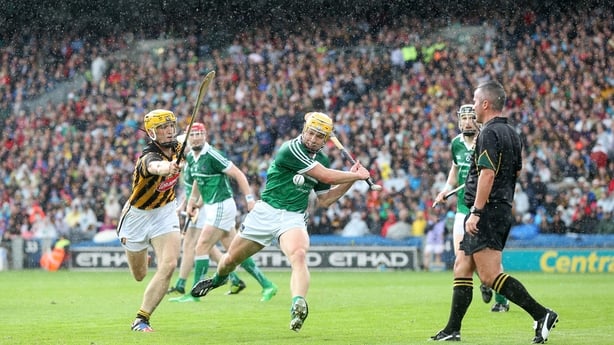 The Offaly native isn't expecting too many surprises in Saturday's qualifiers.
Kilkenny v Limerick
"The frustrating thing is that Limerick have so much potential at underage level.
"We saw them demolish Tipperary at under 21 last week and there are quite a number of those lads playing.
"But they've been frustrating at senior level and just seem to be lacking confidence.
"That's the one thing you don't want to be doing going to Nowlan Park.
"Kilkenny will look back at the Wexford game and think they had plenty of chances to win it.
"They made a few surprising changes, Padraig Walsh and Ger Aylward taken off early, Richie Hogan off late, so there are a lot of lads with reputations to slightly build again.
"I think Kilkenny will be in the draw on Monday morning."
Tipperary v Westmeath
"Westmeath have been making good progress at U21 level the last couple of years
"They looked for Tipperary to go to Mullingar but Tipp are showing no mercy, they took the home venue and they're going to win that one.
Offaly v Waterford
"I thought Offaly was a chance for Waterford to experiment but they have named a very strong side, almost the same as started against Cork.
"Their view is that they're going to give everyone from the last day a chance and they'll be too strong for a young, inexperienced Offaly team.
Dublin v Laois
"Dublin and Laois might have been one with a possibility of a surprise but Stephen 'Picky' Maher picked up a cruciate injury and they had already lost Willie Hyland to retirement.
"They're two top forwards any county couldn't do without but Laois don't have the resources to cope with that.
"Dublin will more than likely get through that."
Live updates on the Leinster hurling final between Galway and Wexford from 3.30pm - live on RTÉ2 and RTÉ Radio 1's Sunday Sport.