The Sunday Game was obviously anticipating what was going to happen in the Dublin-Westmeath match at the weekend because they were advertising their discussion on a tiered football Championship long before throw-in.
And in that game we got exactly what we expected - a dominant display from Dublin, Westmeath completely overrun, a one-sided contest and a lop-sided scoreline.
The Sunday Game discussion, featuring the input of nearly a dozen managers from Division 3 and Division 4 teams didn't bring a lot of surprises either, with the majority of them saying they weren't in favour of tiered championship.
We need your consent to load this Facebook contentWe use Facebook to manage extra content that can set cookies on your device and collect data about your activity. Please review their details and accept them to load the content.Manage Preferences
The argument goes that every team deserves a shot at playing for the All-Ireland and every team, regardless of their level, deserves the chance to play against the best teams in the country.
There seems to be a huge resistance towards bringing in a second tier and frankly it leaves me mystified.
At club level, we have senior, intermediate and junior competitions with promotion and relegation up and down between them and we have no one calling for any changes to these structures.
A junior team doesn't play a senior team and they only way they can bridge the gap is by winning their way through the ranks.
I played senior football for Moy for, I reckon, about 70 per cent of my time, but we had been relegated and played intermediate in 2008. We got to the final that year and it was played just a few weeks after we won the All-Ireland with Tyrone.
We lost to Trillick and that's one of the few times I was in tears on the pitch after the game; Sam Maguire was quickly forgotten about, I can tell you.
Do all those opposing a graded cship structure want all clubs in their county to play senior cship with no intermediate or junior?

— Philip Jordan (@PhilipJordan7) June 25, 2017
I loved playing for my club, but I knew that during most of my time we never really had a shot at winning the senior championship. After we dropped down, I knew that we had a real chance at winning intermediate and we put absolutely everything into it.
Players want to win matches and players want to win trophies - success is what motivates them.
What I would like to see is two tiers, tied into the League, that would see Division 1 and 2 teams in the top flight and 3 and 4 sides in tier two. I don't want to hear the expression 'B Championship' because that has unwanted connotations that aren't helpful in trying to promote football.
I have heard people say that teams won't develop unless they have the opportunity to play the best and this isn't something I buy into at all. Westmeath have played Dublin three years on the bounce and how much better have they gotten as a result? Exactly.
Kildare are getting themselves ready for a Leinster final against the Dubs now and, privately at least, the management would be relieved to get away with a five or six-point beating.
If they do that, it's a success and they go into the last round of qualifiers in pretty good shape and one win away from an All-Ireland quarter-final. Get a heavy beating though, and their confidence will be badly knocked and it could signal the end of the season.
We need your consent to load this SoundCloud contentWe use SoundCloud to manage extra content that can set cookies on your device and collect data about your activity. Please review their details and accept them to load the content.Manage Preferences
Counties like Tipperary and Clare have developed over the past few years and I think playing regularly in the Championship against teams of their own level would have been good for them and certainly wouldn't have slowed down their move from tier two to tier one.
Another argument against it is that it won't have the prestige or the profile of the All-Ireland, but this is something that the GAA can control in terms of exposure, investment, timing of games and the input of sponsors.
Sadly, I can't see this happening now or at any time in the future because we seem so resistant to change and I think part of the reason for this is the age profile of the decision makers in the GAA. They tend to be older while younger people tend to embrace change more quickly.
Looking back at the Dublin-Westmeath match, I expected the Dubs to win well and wasn't surprised. They went full throttle from the first whistle to last and it's this relentlessness that makes them so hard to beat.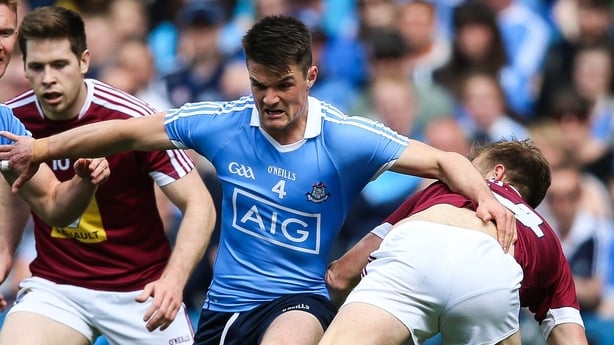 A team, the likes of Kerry, can have a strong spell against Dublin, but because they keep going flat out for the full 70 minutes they are able to limit their losses even when their opponents are on top.
I was a bit surprised by Down beating Monaghan in the Ulster semi-final and Tyrone will go into the final as red-hot favourites. The test for Tyrone now is to ensure that their excellent performance in the win over Donegal the last day wasn't just a one-time thing.
Monaghan haven't been great in the qualifiers in recent years so their next game is crucial. If they can get the win, and that's far from a foregone conclusion against Seamus McEnaney's Wexford, they still have the potential to get to Croke Park and try to earn that elusive All-Ireland quarter-final win.