Ger Loughnane believes that Galway deserve to be favourites for the All-Ireland title but remains to be convinced that the team have the on-field leaders to steer them through big games.
Galway breezed past Offaly in the Leinster semi-final today, establishing a 19-point winning margin without even requiring the boost of a goal in the process.
In the past two years, the same four sides - Tipperary, Kilkenny, Waterford, Galway - have filled the All-Ireland semi-final pairings.
In 2017, three of those sides are bound for the qualifiers.
Jackie Tyrell and Ger Loughnane believe Galway are deserving favourites to lift Liam MacCarthy but questions remain #GAA pic.twitter.com/JaX3XImXwC

— The Sunday Game (@TheSundayGame) June 18, 2017
Galway, who demolished Tipperary in startling fashion in the League final in April, are the only one of the quartet who have not yet been blown off course in this championship.
The bookies have installed them as favourites for the All-Ireland.
Sunday Game analyst Loughnane accepts that Galway probably deserve to be favourites but raised doubts about whether they have the on-field leaders to drag them through difficult periods in games against the top sides.
"The thing about Galway is that they do deserve to be 2/1 favourites, especially on the basis of their League final performance as well as their displays over the last few years.
"The one big question hanging over Galway is not so much what team will get off the bus as when it comes to crucial junctures in big games, like the Leinster final against Kilkenny in 2015, like the All-Ireland final in 2015, like last year's Leinster final, when they were either leading at half-time or level at half-time, and ended being beaten badly in the end, that when those crucial junctures come have they the leaders that'll stand up and drive the team home?
"That is the one thing lacking. And we won't know that until we get to the really big games," Loughnane cautioned.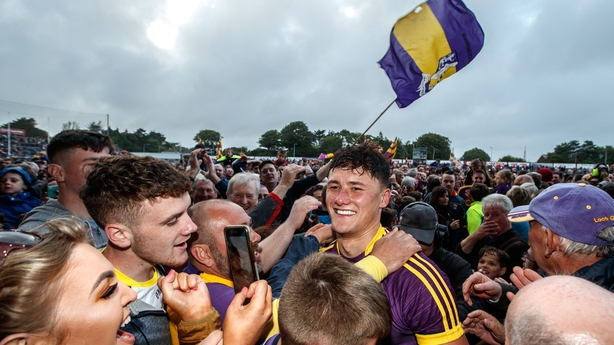 He imagines that Davy Fitzgerald newly buoyant Wexford outfit will test Galway's mettle.
"Now, Wexford will know that as well. And they'll try and stick with Galway into the second half and they'll test that.
"If they're close to Galway with 15 or 20 minutes to go, that'll be a big test of Galway and if they (Galway) pass that, then they deserve to be favourites for the All-Ireland."
Fellow panelist Jackie Tyrrell argued that Galway definitely deserved to be All-Ireland favourites and said he believes that there is "something different" about Galway this year.
"They definitely deserve to be favourites for the All-Ireland. I think there's a ruthlessness about this team. There's a physicality that I have never seen with a Galway team before.
"Very big men but well able to use it. It's wide open for someone to put their stamp on this championship and I really feel Galway could be that team."