Galway manager Micheál Donoghue was sticking to the script after their routine win over Offaly, which sets up a Leinster final meeting with Wexford on July 2.
After championship defeats for Tipperary and Kilkenny, the league champions are now the favourites for the All-Ireland title.
"From our perspective all the expectations are from the outside," Donoghue told RTÉ Sport after 0-33 to 1-11 win in O'Moore Park.
"In terms of ourselves and our preparations we just take it one game at a time.
"All the talk [of favouritism] that's outside really has no bearing on what we're doing or any consequence on what we're at.
"Obviously, I haven't looked past today so from tomorrow and the day after we start looking at [Wexford].
"In fairness the way Offaly set up in the first half, having two sweepers closed down a lot of the space.
"We worked really hard and adjusted the game to get the scores from outside. We got 16 in the first half and 17 in the second so obviously we're happy."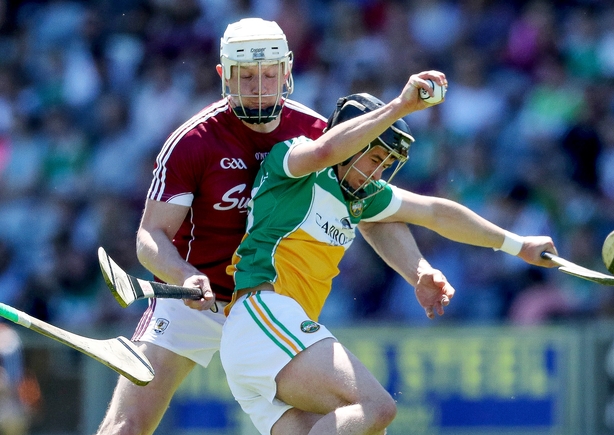 Offaly manager Kevin Ryan, in his first season in charge, was eager to remind people of where the county stands in the pecking order at the moment.
"The one thing I'm saying to everyone in Offaly is you've got to realise where we're at," said the Waterford native.
"We're around somewhere between tenth and twelfth in the country and we're playing the top one or two in the country. We're aspiring to get there.
"But if you don't realise where you're at and start building from there you're never going to get there just hoping it happens. We have a lot of plans in place.
"Those lads will do exactly as any other team will do, they'll do recovery tomorrow night, we'll dissect this game a little bit and look who we're playing in two weeks' time [in the qualifiers]
"We'll go forward positively, we're not happy with the score but we're very focussed and determined to get Offaly back where we want to be.
"If we can take baby steps along the way we'll be happy."