The gap between Division 1 and Division 4 was plain to see this afternoon at Dr Hyde Park in Roscommon when the home side easily accounted for Leitrim in a lively but one-sided Connacht SFC semi-final, eventually winning by 2-23 to 1-9.
Their final tally represented the largest ever total scored by Roscommon against their neighbours, exceeding the 4-14 they scored at Carrick-on-Shannon 47 years ago.
The perils of dropping too many men back into defence were plain to see this afternoon.
Leitrim played with four men forward for most of the game but Roscommon reacted by pushing wing-back Conor Devaney forward, and the Kilbride man was exceptional in his advanced playmaking role, spreading the ball around and popping up to convert the two goals that effectively ended Leitrim's challenge by half time.
Right from the start it was clear that Roscommon's fast and mobile attacking unit was going to thrive on the new Dr Hyde Park surface, and they ran Leitrim ragged, firing over four points in the opening five minutes.
Leitrim were handed a lifeline when Darragh Rooney produced a stunning right-footed finish past Colm Lavin with their first meaningful attack, but the score proved to be less of a kickstart to the away side resistance and more of a speed bump in Roscommon's path.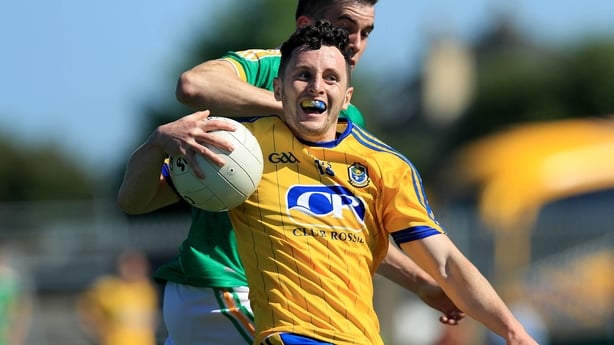 It halted their progress for a few seconds, before they moved right back up through the gears and powered ahead once more.
Devaney's first goal, tapped into an open net after Brendan Flynn had saved Enda Smith's initial attempt, pushed Roscommon five points in front and while their scoring rate dropped considerably in the second quarter, Leitrim offered little or nothing going forward and the tie was effectively settled by half time, with Roscommon leading 2-9 to 1-2.
Diarmuid Murtagh was the star of the show in the second half as he fired over some wonderful scores to keep the scoreboard operators very busy, while Brian Stack and Enda Smith were also hugely prominent.
Darragh Rooney and substitute Ronan Kennedy kicked some nice points for Leitrim but theirs was a token resistance as Roscommon monopolised possession, controlled the pace and style of the game, and kept firing over the scores to keep Leitrim at something far more than arm's length.
It will all be very different against Galway in the Connacht final in three weeks' time, and manager Kevin McStay will be disappointed that none of his substitutes made any real impact against a Leitrim defence that tired in the white heat of the mid-day sunshine, but otherwise it was a blemish-free victory for a Roscommon side that looked a far cry from the team that was relegated in the springtime.
Roscommon: C Lavin; G Patterson, J McManus, N McInerney; S McDermott, S Mullooly, C Devaney (2-01); E Smith (0-03), T O'Rourke; F Cregg (0-02), N Kilroy (0-01), B Stack (0-02); C Murtagh (0-04, 0-01 pen, 0-03 frees), D Murtagh (0-07, 0-01 free), D Smith (0-01).
Subs: C Connolly (0-01) for Smith (14 – bc), C Compton for Connolly (45), R Stack for Kilroy (45), S Killoran (0-01) for Patterson (48), B Murtagh for B Stack (60), T Featherston for C Murtagh (65)
Leitrim: B Flynn; N Plunkett, D Wrynn, P Maguire; J Rooney, M McWeeney, O Madden; D Moran (0-01), S Moran; D McGovern, C Gaffney, R O'Rourke; K Beirne (0-03, 0-01 free), B Gallagher (0-01), D Rooney (1-02).
Subs: N McGovern for D Moran (35+3 – bc), R Kennedy (0-02) for D McGovern (35+6), G Reynolds for McWeeney (45 – bc), C Cullen for O'Rourke (47), R Gallagher for Wrynn (58), G Plunkett for Gallagher (67)
Referee: Anthony Nolan (Wicklow)