Mayo midfielder Tom Parsons has stressed that his side are "still in the game" despite the one-point loss to Galway in a tense Connacht Football Championship semi-final in Salthill last Sunday.
After winning five consecutive Connacht titles between 2011 and 2015, Mayo were condemned to the qualifier series following their shock defeat to their traditional rivals in Castlebar last summer.   
It was the first time several of the current crop of Mayo players experienced the alternative route to the All-Ireland series.
After a couple of uncomfortable afternoons against Fermanagh and Westmeath, they ultimately navigated their way back to the quarter-final stage and then on to the final. 
Speaking on the RTÉ GAA podcast this week, former Mayo midfielder David Brady said that he expected a much tougher run in the qualifiers this year and wondered aloud whether the "freshness" could be reinstalled in some of the Mayo players this time around.
But Parsons insists that Mayo will be fresh and ready when the second round of the qualifiers roll around. 
"First and foremost, we're very disappointed. It was a game that we targeted to win. A Connacht title was something that we really wanted to bring back. That's not on the cards now anymore," Parsons told RTÉ Sport.  
"We're in a situation now where we've another path where we have to go on.  
"Are we going to shy away from that? No, we're not. We had a really hard, challenging game against Galway in Salthill which will stand to us. It will stand to Galway as well.
"Right now we're going to regroup. We're going to playing in three weeks time. And that's where our total focus is.
"We are still in the game."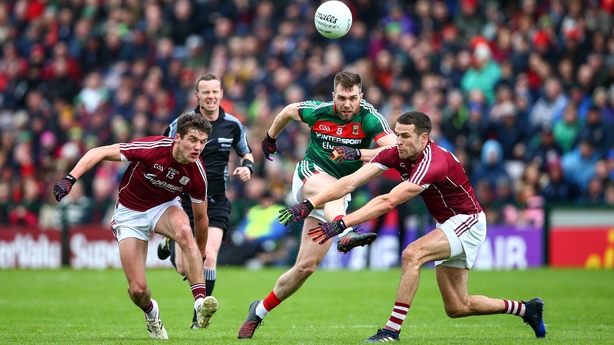 Not only have Mayo the experience of 2016 to draw on, but they also flirted with relegation from Division 1 this spring with losses to Monaghan, Dublin and Cavan landing them in bother with two rounds remaining. 
They preserved their Division 1 status with victories in Omagh and against Donegal in Castlebar and Parsons takes encouragement from the mental strength the team displayed in those crucial encounters.  
"Even this year, we lost to Dublin and Cavan in the League and relegation was facing us," he recalls. 
"We had to go down to Tyrone and win and we had to beat Donegal in MacHale Park in the last two games of the League. 
"Challenge is what it's all about. We have another challenge in front of us and we're under no illusions about the challenge which faces us.
"But we won't shy away from it."
Tom Parsons was speaking at the launch of the GPA's three year strategic plan in Croke Park this afternoon.