Diarmuid Connolly must improve his temperament or he will struggle to achieve what he wants in the game, according to former Kerry footballer Colm Cooper.
Four-time All-Ireland winner Connolly has been hit with a 12-week ban for his actions in last Saturday's Leinster SFC quarter-final win over Carlow, following a meeting of Croke Park's Central Competitions Control Committee (CCCC).
Connolly put his hand on the shoulder of linesman Ciarán Branagan after a sideline ball was awarded following a scuffle on the touchline.
RTÉ football analyst Cooper says that while Connolly is a supremely gifted talent, he needs to show increased levels of  maturity .
"He was out of line, he shouldn't have done what he done," he told 2fm's Game One programme.
"I think the thing for Diarmuid he has been in disciplinary hearings before and it's knocking on his door quite frequent now. I'm sure Jim Gavin is frustrated by it as well.
"People know he has a short fuse and they are going to test him."
"He's a fantastic footballer. Short-tempered at times, but I think that's part of growing up and maturity hopefully he will move on from it.
"He's one of the top three players in the country in my opinion, of course he's going to be targeted. He's going to come in for rough treatment.
"People know he has a short fuse and they are going to test him."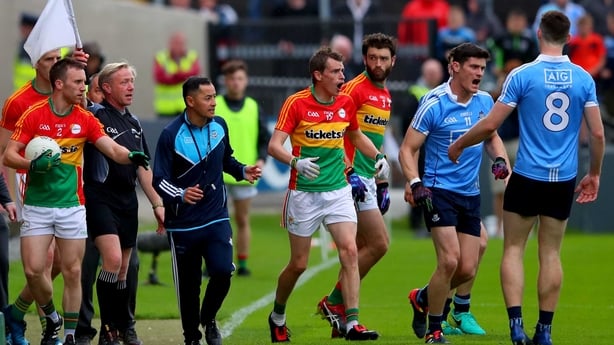 The timing of the ban - a 12-week ban would see him return for a potential All-Ireland semi-final should the Dubs as expected progress – is a silver lining and Cooper drew comparisons to Paul Galvin's infamous altercation with referee Paddy Russell which saw the forward banned in 2008 until the All-Ireland Final.
"I think he's going to have to suck it up...It's a blow for Dublin it's not all doom-and-gloom, but he'll still be there for the business end of the Championship.
"Paul Galvin had a similar scenario in 2008 and he came back from it. It's probably time for Diarmuid, to mature, learn and move on from it."
Cooper, who announced his inter-county retirement just a few months ago, says that it is in everyone's best interest if the St Vincent's star learns his lesson.
"The GAA have to take a stance on this because if something similar happens in a few weeks, months time and this isn't acted upon it's going to leave a sting in the tail," he said.
"He's going to have to [learn to deal with attention from opponents] or else his career is not going to go in the direction he wants it to go, and where we all want it to go and playing top, top football."