Saturday's incident between Dublin's Diarmuid Connolly and linesman Ciaran Branagan highlighted a wider problem that afflicts Gaelic Games.
And that's the problem of a lack of respect for all match officials - referees, linesmen, fourth officials and umpires. 
These people have to put up with a low-level of abuse almost every time they try to fulfil their duties at a match and it's completely unacceptable.
If we look at the example set by rugby, where the referee is treated with nothing but respect, or US sports where they are very tight on the way their match officials treated, the GAA sets a very low bar.
Every single time a free is awarded at nearly ever grade the first reaction of the player is "ah, for f*** sake, ref" and to question the decision. We don't often see players going nose-to-nose with referees to remonstrate with them, but there's a constant effort to chip away and undermine them.
One of the offences listed as punishable by a black card is verbal abuse of a match official, yet have we ever seen anyone put into the stands for this? I certainly can't remember of it ever happening.
We see it all the times in inter-county games and it's even more prevalent in club matches away from the cameras and sometimes it can get nasty, particularly when there are umpires from the two teams involved.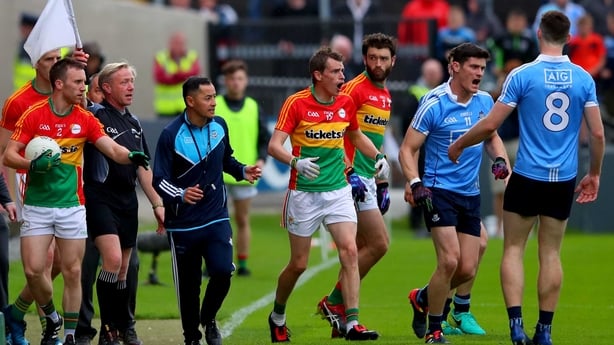 I was never an angel and I used to give out to the referee as much as anyone, though I always tried to be on my best behaviour in county games because I knew there'd be more scrutiny.
There was one particular day when I was playing for Moy that I still regret because I let myself down.
One of our lads hit one of theirs off-the-ball and the referee didn't see it. He heard the noise and decided to book our player. I got on to him straight away - "how can you book a player when you don't know what happened?".
The first reaction of the player is 'ah, for f*** sake, ref' and to question the decision
I kept getting on to him for the rest of the game, in his ear, questioning him. I'm sure he didn't feel too great about himself going home after the way I carried on and he should definitely have booked me to shut me up. If I'd kept it up after that I'd have deserved to be sent off.
After games we often hear managers come out and give out about the referee and this to me is part of what's wrong. When you lose you should be looking at what you did wrong, rather than blaming the referee.
When people hear the manager criticising the referee they believe that it's acceptable and it trickles down. A good manager should be telling his players that once a free is awarded against them to shut their mouths, turn and mark up their men.
In case you missed the panel discussion on the Dairmuid Connolly incident from the weekend, you can watch it here. #RTEGAA pic.twitter.com/HROyQm8Bny

— The Sunday Game (@TheSundayGame) June 5, 2017
I think Croke Park has to make a decision that they are going to clamp down on this type of verbal abuse of match officials. Once a few black cards are dished out players wouldn't be long in learning what's acceptable and what's not.
What Connolly did during Dublin's win over Carlow on Saturday wasn't on. He put his hand on Branagan's shoulder and though it was relatively minor, he is looking at a 12-week ban.
This is a game that the Dubs were never going to lose, that was well under control, and for him to get so wound-up under those circumstances shows that he still has to learn to keep his temper under control.
He's 29 years old now and one of the most experienced players on the Dublin panel. He's the best forward in the country at the moment and he will be a loss if he does end up getting a hefty suspension.
Even with all of the defensive football we see, he seems to play most of his football in the opposition half, rather than his own half-back line, and he has the ability to pick a pass or kick a point off either foot from the '45'.
He's as skillful a player there is around and this means that people sometimes miss how hard he works. His work-rate is phenomenal and that brings others around him on because they see how much graft such a gifted footballer is willing to put in.
Without him Dublin aren't the same team and without him their hopes of retaining the All-Ireland title are diminished.