Kerry manager Eamonn Fitzmaurice has defended Brendan O'Sullivan and criticised the manner in which news of the player's failed drugs test found its way into the media.
It emerged recently and O'Sullivan had tested positive for a banned supplement and served a seven-month ban.
The story as first reported on by the Sunday Independent, which prompted the Kerry County Board to name the player before Sport Ireland's report into the case was released shortly afterwards.
We need your consent to load this SoundCloud contentWe use SoundCloud to manage extra content that can set cookies on your device and collect data about your activity. Please review their details and accept them to load the content.Manage Preferences
"That's a big question; a huge question. The whole thing got very messy in the end because the report was released," said Kingdom boss Fitzmaurice, speaking to RTÉ Sport.
"We had nothing to hide, Brendan had nothing to hide and the way it played out in the end looked like there was something to hide and that's very disappointing. Who leaked it?" he asked.
"Aidan O'Mahony's report was released in 2008 as well - it appeared in a paper before this famous process was completed. I think that's a big question," said Fitzmaurice, referring to another player's failed drugs test nine years ago that eventually ended with O'Mahony being completely cleared.
In May 2016 O'Sullivan was found to have taken a contaminated supplement that contained the banned substance methylhexaneamine. He failed to notify the Kerry team doctor or dietician that he was taking the supplement.
Fitzmaurice said that he was originally told he would be suspended for four years, but that the ban was ten suspended after eleven weeks, in July of last year, and Kerry thought that this was the end of the matter.
But then last December O'Sullivan was again contacted by Sport Ireland to tell him that he would have to serve a seven-month ban.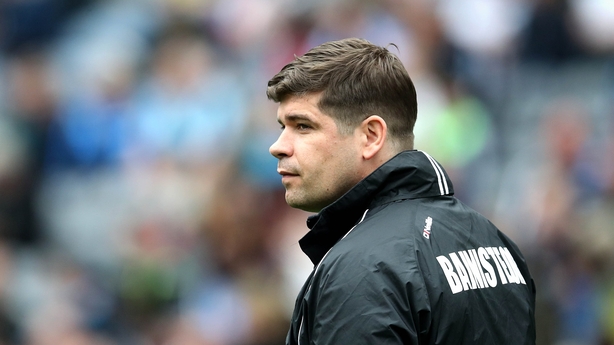 "I became aware the same day as Brendan found out, at ten o'clock in the morning on 12 May, 2016," explained Fitzmaurice. "He got the phone call to say he'd failed the test and that he was banned for four years.
"It was a telephone call from Sport Ireland: 'Is this Brendan O'Sullivan? You've failed a drugs test. You've been banned for four years'. That was the conversation - blunt and to the point and, as you can imagine for him, pretty shocking.
"Within a minute or two we were able to isolate what had happened - he had taken a contaminated product that was outside of the set-up so it was fairly easy to predict where the substance had come from.
He got the phone call on 12 May, 2016 and by the time the process was eventually finished it was 1 June 2017 - Fitzmaurice
"I understand the process has to be very robust and the system is you are guilty until you are proven innocent and that's why we were advised from the start that we would have to keep it under wraps until the process is finished.
"If we were released a statement to say that Brendan O'Sullivan had failed a drugs test and was banned for four years, conclusions were going to be jumped to. We had to protect Brendan, particularly when it was inadvertent.
"We had to go through the process and that's what I found most frustrating - the length of time it took to get from start to finish.
"He got the phone call on 12 May, 2016 and by the time the process was eventually finished it was 1 June 2017," continued Fitzmaurice.
"I think the biggest gap and the one I find hardest to understand, and I'm not an expert in this so maybe there are explanations as to why this happened, is he served 11 weeks and after that it came back in mid-July that the product was contaminated and that methylhexaneamine was in it.
"From that point of view what had happened so this four-year suspension was suspended and he was allowed back training after eleven weeks.
"Then we heard nothing, we had a statement ready to release to the public as soon as the process was finished to inform them what had happened, then Brendan got a call on 21 December at half five in the evening to say 'you have been suspended for seven months and happy Christmas'."