After months of speculation, it's been confirmed that dual star Rena Buckley will not feature for Cork in the 2017 football championship this summer, writes Mary White.
Buckley, who holds a total of 17 senior All-Ireland medals, 11 of which she has won in football, has opted out of Ephie Fitzgerald's squad to concentrate on winning the O'Duffy Cup with the Cork camogie team.
The nine-time All-Star winner is the present camogie captain having being nominated by the 2016 Cork Senior Camogie champions Inniscarra. And, should Cork win the O'Duffy Cup in September, Buckley will become the first player to have captained Cork to an All-Ireland in both football and camogie, having captained Cork to the Brendan Martin cup in 2015 under Eamonn Ryan.
It is not yet known if her dual star teammate Briege Corkery will play football or camogie championship having not featured in either league campaign in the spring.
Between Buckley and Corkery, they hold 34 senior All-Ireland medals, making them the most decorated GAA players of all time, male or female. The duo surpassed the record of 15 senior All-Ireland camogie medals held by Kathleen Mills of Dublin, when they lifted the Brendan Martin cup in 2016.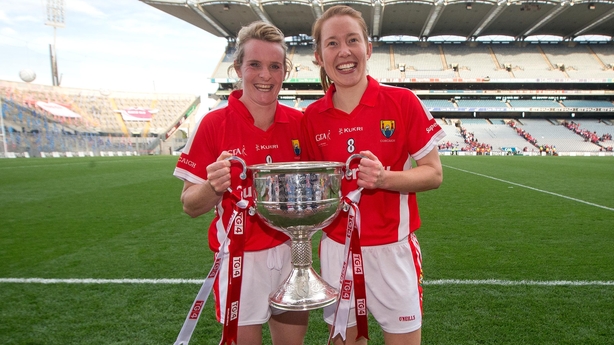 It is understood that Buckley will review her position when it comes to playing intercounty football at the end of the season, however for now the 30-year-old physiotherapist will focus her efforts on winning back the O'Duffy Cup under coach Paudi Murray.
On Sunday, the footballers will open the defence of their senior All-Ireland title when they take on Waterford in the TG4 Munster Senior Football Championship in Fraher Field, Dungarvan (3pm). The Rebels will incredibly bid to win the Brendan Martin cup for the 12th time in 13 years, but will do so without their captain Ciara O'Sullivan, who is presently travelling, while her younger sister, Doireann, who took over the captaincy in her absence, has been ruled out for six weeks having undergone keyhole surgery last week.
As it stands, 2016 LGFA Players' Player of the Year Brid Stack is the only remaining player in the squad to have won Cork's first Munster Senior Championship title in 2004, and she will start at centre-back in Fraher Field tomorrow, while Aine Terry O'Sullivan will replace the injured Doireann O'Sullivan.
Having defeated Donegal in the Lidl Division 1 National League final in May, a new-look Cork will be hoping to retain the provincial championship, however they will first have to see off Waterford, and then Kerry away on Saturday, June 17.