Tyrone is a big county and it shares a border with five of the other eight Ulster counties - only Cavan, Down and Antrim miss out.
That's just one of the reasons why we have so many rivalries and that nearly every game we play in the province feels like a derby.
For me, coming from Moy, Armagh was the big game, but for most of the lads on the panel and for most of the county Derry are the main rivals and I expect the usual spiky encounter at Celtic Park on Sunday.
We need your consent to load this SoundCloud contentWe use SoundCloud to manage extra content that can set cookies on your device and collect data about your activity. Please review their details and accept them to load the content.Manage Preferences
There's a big border between the two and there seems to be a lot of clubs just on either side of it, which really feeds into the hostility that's there.
The modern rivalry probably started to get going with the infamous 1995 Ulster semi-final, just two years after Derry had won the All-Ireland and about the time when Tyrone were emerging as a force.
That was one of the first games I can remember going to and it made a big impression on me. It was a spiteful game and Tyrone finished with 13 men, but we won so it will always be fondly remembered on our side of the border.
I lined up against Derry plenty of times throughout my career, but two other games stand out for me in particularly - 2003 and 2006 because there was such an edge to them and they were so intense.
I'd say 2006 is the one that will stay with me because we were All-Ireland champions and hot favourites. It didn't work out and I recall going into the dressing room at half-time having failed to score so much as a point - we were six-nil down.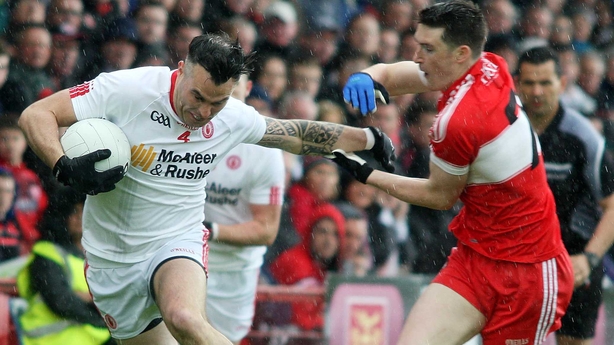 Raymond Mulgrew was a 19-year-old debutant that day and he came in for some particularly rough treatment. He was taken off at half-time and I'll never forget Mickey Harte pointing to him and telling us, the established players, that we had allowed Derry to bully Raymond. We finished with 13 men that day as well and were well beaten.
There are certain games, they come along every three or four years, that a manager will use to motivate a team and that's certainly one that Mickey pulled out whenever he felt we were getting complacent or needed a bit extra.
I have no doubt that Damian Barton will be doing something similar this week and he'll be using last year's Derry-Tyrone game as motivation. After a big build-up it was over after 15 minutes and that will have hurt.
I expect Derry to be more physical and I expect them to be cuter tactically too. 12 months ago they allowed themselves to be turned over and caught with 12 players up the field, leaving the way open for Tyrone to counter attack and score.
They'll keep more men back and make sure they're harder to break down.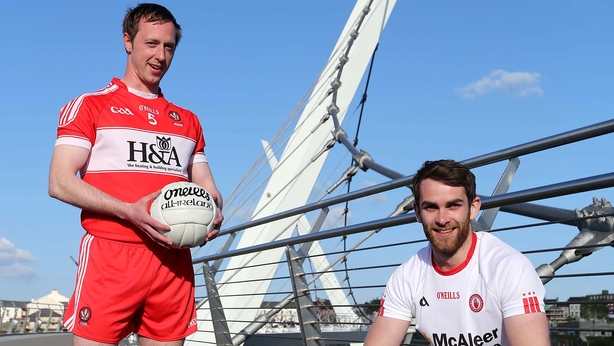 I have spoken often too about Tyrone's lack of a killer forward to beat the very best. But outside of the top four or five counties, Tyrone have as good a bunch of forwards as there is about and I expect them to be good enough to win on Sunday by somewhere between four-and-six points.
Something I would like to see is Mark Bradley getting a run inside to see what he can do. He has had a few injuries this year so he hasn't gotten that consistent run and I think he could be a player to make a difference, with his intelligence and movement.
A former team mate of mine retired last week and while there are loads of stories about Joe McMahon I'd love to tell here, none of them are fit to print!
Joe is one of the best footballers I ever played with or against and I feel his reputation outside of Tyrone suffered due to his versatility - he performed in every line on the field bar the full-forwards.
He was a real character and you knew as soon as he got on the bus on the way to a big game he'd be fast asleep. In the dressing room he'd be cracking jokes and helping to keep everyone relaxed, but once it was time to get the game face on he was all business.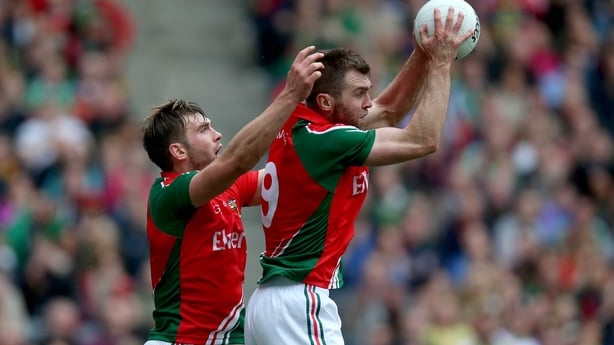 Another big man in the news recently has been Mayo's Aidan O'Shea, who has been singled out for a lot of unfair criticism. I'm sure Aidan would be the first person to admit that he hasn't always done it on the big day, but he's hardly the only player who can say that.
A bit like Joe, he suffers because of his versatility - do you play him at full-forward, in the half-forwards or in midfield? He'll do a job at any of them.
I know if he was was from Tyrone we'd be happy to have him in the team on Sunday and I think it's time that everyone laid off him.
Watch Derry v Tyrone in the Ulster SFC quarter-final (throw-in 2pm) live on RTÉ 2 and listen live on RTÉ Radio 1 on Sunday May 28. You can also keep up-to-date with our online match tracker on Sunday afternoon.