Brendan Murphy and Paul Broderick fired Carlow to their first Leinster championship win since 2011 and qualified them for a provincial quarter-final with Dublin at Portlaoise after a 2-17 to 2-13 win over Wexford at Netwatch Cullen Park.
Broderick was immense for the home side and his ten points were crucial, although Brendan Murphy's two second-half points and his injury-time goal helped his side over the line.
Eoghan Nolan's sending off in the second-half hampered his side's hopes, but goals from PJ Banville and Naomhan Rossiter kept them in touch, only for Carlow to pull clear.
Having faced each other in the league in April there was not too much that these sides didn't know about each other and after a dull, turgid opening 35 minutes there was nothing to separate the teams as they sat at 0-8 each.
Carlow had the wind advantage in that first-half, but were happy to crowd their own defence with 14 men when Wexford had possession. Similarly, as soon as Carlow got the ball, Wexford fell back into their defensive shape, which left us with the dramatic scene of an unchallenged Carlow player soloing the ball on the spot in front of his own goal in first-half stoppage time – much to the annoyance of the home support.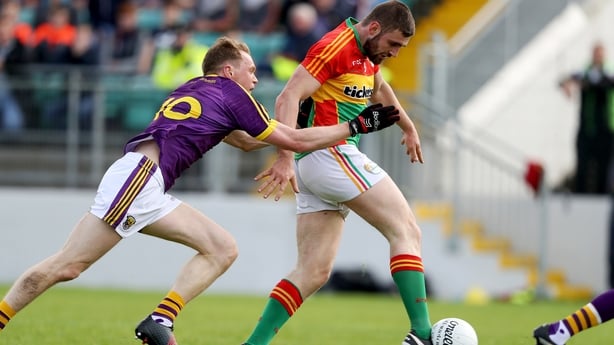 Against the wind Wexford had gotten off to a great start thanks to two pointed frees from Ciaran Lyng and a good rampaging point from corner-back Michael Furlong, but even at that early stage Carlow could have been level had Eoghan Ruth converted his excellent sixth-minute goal chance.
Alan Kelly did get Carlow on the board after 14 minutes, and with Brendan Murphy the dominant player at midfield they began to gain a foothold in the action. Four minutes later Wexford's midfield sector was further weakened when Daithi Waters was black carded for a foot trip on Murphy, while his partner Colm Kehoe was stretchered off eight minutes from half-time with a leg injury.
The Carlow forwards took it in turns to run the long role up front, and it was Paul Broderick that showed the best skill and composure in front of goal – he kicked three points in a row from play for his side to draw them level by the 32nd minute.
Wexford were living off the generosity of the Carlow backs who fouled frequently and Ben Brosnan also kicked three from the ground in this period to keep his side in touch, while Darragh Foley's excellent score just before the break ensure parity for his side at the interval.
Wexford started brightly again after the break thanks to a Brosnan free, but their challenge went downhill quickly when Sean Gannon sent Danny Moran in on goal and he blasted high to the net past Conor Swaine for a 1-8 to 0-9 lead.
Lyng added a free for Wexford to settle them, but with Broderick accurate from placed balls and Gry Kelly on the mark, Carlow moved three points clear.
A second yellow card for Eoghan Nolan saw Wexford reducted to 14 men for the last 24 minutes, but they were lifted by PJ Banville's goal in the 48th minute that left Carlow one point ahead.
Broderick and Brendan Murphy added points for a determined Carlow, but as soon as their lead was three points, Wexford levelled mattered with their second goal from Naomhan Rossiter from close range.
Broderick's ninth point kept Carlow ahead with 16 minutes remaining, and after a Brosnan free to level the game again, Briderick brought his personal tally to ten points with the lead score nine minutes from time.
Two minutes later he followed it up with second yellow card though as Carlow's chief score-getter ended the game on the sidelines, but Brendan Murphy's goal in the second minute of injury-time wrapped up the win for Carlow.
Carlow: C Kearney; C Crowley, S Redmond, C Lawlor; D Moran (1-00), D St Ledger, G Kelly (0-01); B Murphy (1-02), S Murphy; E Ruth, D Foley (c) (0-02), A Kelly (0-01); P Broderick (0-10, 0-05f), C Moran, J Murphy.
Subs: S Gannon (0-01) for Moran (23 mins), BJ Molloy for Crowley (35+3), M Rennick for Moran (53), J Clarke for Ruth (53), K Nolan for J Murphy (64), S Clarke for G Kelly (65),
Wexford: C Swaine; M Furlong (0-01), N Rossiter (1-00), J Rossiter; A Flynn (0-01), J Wadding, B Malone; D Waters (c), C Kehoe; K O'Grady, B Brosnan (0-05, 0-05), E Nolan; C Lyng (0-05, 0-05f), J Tubritt, PJ Banville (1-01).
Subs: N Hughes for Waters (19 mins, black), J Lacey for Kehoe (27), R Deveraux for J Rossiter (52), P Curtis for Tubritt (57), C Carty for Furlong (67), D Shanley for Flynn (68).
Referee: Fergal Kelly (Longford).