Recently-retired Kerry great Colm Cooper has brushed off Joe Brolly's controversial view on his career, saying the RTÉ analyst "likes to go against the grain sometimes just to create debate".
Cooper, speaking to The Ryan Tubridy Show on RTÉ Radio 1 this morning, said that Brolly's comments mattered little to him and he was more taken aback by the outpouring of praise that followed the announcement that he was quitting the game.
Brolly opined that Cooper had failed to inspire his Kerry team when they came up against tough Ulster opposition, despite winning four All-Ireland titles, four national league crowns and nine Munster championships in his inter-county career.
The Dr Crokes player said: "I take Joe for what he is. He is a very outspoken pundit. He likes to go against the grain sometimes just to create debate.
"I certainly don't lie awake at night thinking about what Joe is going to say about me."
"I certainly don't lie awake at night thinking about what Joe is going to say about me. In the earlier part of my career he thought I was a fantastic player. In the latter years he has changed a little bit.
"I played for Kerry and Dr Crokes to win medals and challenge for titles, not to satisfy Joe's needs or what he thinks about my character.
"If I let Joe get to me I don't think I'd ever tog out. He has his views and I think he gets a kick out of winding Kerry people up as well and they always bit back a bit as well which he loves. I don't take it too seriously."
Asked would he shake his hand and say hello if meeting him at Croke Park, Cooper joked: "I'm not too sure about that, it wouldn't be all hugs and kisses. I respect his opinion. I don't think it's a universal opinion if I'm being honest. That's his way of looking at things. People down in Kerry see me at club matches and playing for Kerry and how much time and effort I put into football.
"They may have different views as well and I'm sure Joe would have to respect that. They see me up close and personal and what I'm like and maybe they feel I have all the characteristics and attributes that Joe speaks about.
"They get a little bit annoyed and bite back which Joe certainly likes I think."
We need your consent to load this SoundCloud contentWe use SoundCloud to manage extra content that can set cookies on your device and collect data about your activity. Please review their details and accept them to load the content.Manage Preferences
Aside from Brolly, the world of Gaelic Games and stars of other sports have paid tribute to Cooper's contribution to Kerry.
Reflecting on the reaction to the news, he admitted it had taken him aback somewhat.
"I thought there might be a little bit of a hullabaloo for a day or so but it seems to go on a little bit further than that. The comments that came from certain sports people from different codes were very nice and also very satisfying for my point of view.
"People that are involved in sport have an appreciation of what other people do and the work that goes on. We all get admired by different sports people. Some of the comments were quite funny as well. I didn't think so much would be made of it.
"It has been a rollercoaster for the last couple of weeks. A lot of thought went into the decision. I would love to play for Kerry for the rest of my life. But unfortunately time catches up with everyone. It was quite strange watching the boys in the league final against Dublin and not being part of it for the first time in 15 years.
"But my time has come, I have had a fantastic journey, I've had an amazing time and I'm taking a lot  of medals with me. I certainly can't complain."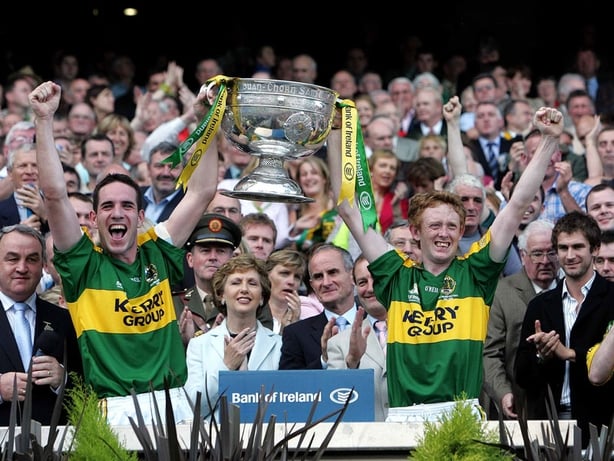 The forward agonised over the decision to call time of his Kingdom career, with the All-Ireland club win with Crokes a factor as he waited to speak with manager Eamonn Fitzmaurice. However, Cooper felt his body was making the call for him.
"I sat down with Eamonn after the All-Ireland club final and we had a chat about it. Eamonn was obviously keen for me to stay on because he felt there was an exciting season to come for Kerry and I could add value to the team and squad.
"But unfortunately over the last few months I've had a lot of injuries and niggles that I wasn't getting earlier in my career.
"They were just catching up on me a little bit. When I took sentiment out of it – I could have easily gone back training with the team and playing for the reason of the season – but I didn't think my body would put up with the rigours of inter-country training for another six months. That ultimately made my decision for."
"I was lucky I came along during a golden generation time for Kerry"
Cooper now joins the ranks of great Kerry players that can reel off major honours that other players could only dream of.
Like many of his colleagues, the finals that he didn't prevail in stick out most. But he is happy that he joins the figures he idolised as a young player.
"I remember the ones we lose more than the ones than we won. That is just being a sports person. You look back on the days and think what you would have done differently. I was involved in 10 finals so it was very, very, very satisfying and I was very fortunate.
"I was lucky I came along during a golden generation time for Kerry in the noughties and amazing talent coming through. I'm not sure many more teams will do and it's something we're very proud of."