Jackie Tyrrell and Ken McGrath agree that Wexford manager Davy Fitzgerald was wrong to enter the field of play during the Allianz League semi-final defeat to Tipperary, but understand his frustration on the sideline.
Wexford trailed by just two points with a little over 11 minutes remaining at Nowlan Park, but Tipperary booked their place in the decider against Galway after blitzing their opponents for 2-04 without reply as they coasted to an 11-point win.
The Slaneysiders had entered the match unbeaten in the League and gave a good account of themselves for the majority of the contest, but it was goals that ultimately proved to be their downfall at a sunny Nowlan Park.
The second goal, Noel McGrath's first of the afternoon to put the Premier men six up in the 20th minute, was a particularly contentious moment in the match.
It resulted in an irate Fitzgerald making his way onto the pitch where he remonstrated with referee Diarmuid Kirwan and was confronted by a couple of Tipperary players.
Fitzgerald was incensed that corner back James Breen was not awarded a free-out in the lead up to the goal, and speaking on RTÉ's League Sunday, Tyrrell agrees it was the wrong decision from the referee.
"It is a free out for Wexford. No doubt about it," he told viewers while pointing out that Kirwan's distance from the incident, and the number of bodies in front of him, may have impaired his view of the incident.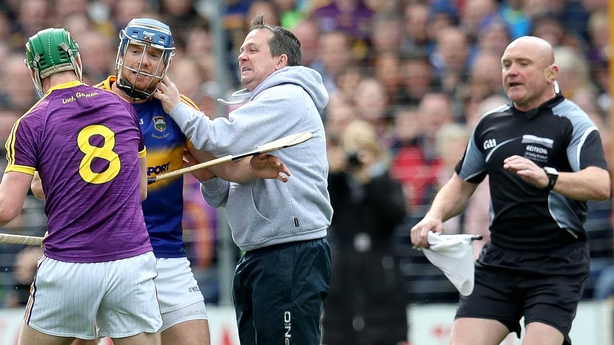 "Davy is quite animated and he's every right to be, but he shouldn't be encroaching onto the field. Davy will know that.
"Luckily enough there was no real malice, or no real fall-out from it," said the former Kilkenny defender who played under Fitzgerald with LIT.
Ken McGrath, who was part of a Waterford team managed by the Clare native, believes Fitzgerald's passion got the better of him and will regret his course of action.
"He overstepped the mark being out on the pitch."
"We all know he's an unbelievably passionate man. He was probably aggrieved, it was a free at an important stage of the game.
"He overstepped the mark being out on the pitch.
"Thankfully the players had common sense and it didn't escalate.
"I'm sure sitting at home he probably regrets what he did, but that's Davy. He wears his heart on his sleeve.
"I think the Wexford players got a lift from it, but it's not what you want to see."
'It was definitely a Wexford free'- @MrJackieTee on Tipperary's controversial second goal in Nowlan Park pic.twitter.com/XAlXs68L6e

— RTÉ Sport (@RTEsport) April 16, 2017