Joe Brolly believes that "ultra-defensive" Tyrone are in decline and says that a player from Mickey Harte's panel told him privately that training with the county team is "depressing."
After a promising start to the Allianz League campaign, they allowed Dublin to claim a late draw at Croke Park after building a commanding lead, and lost the final three games to finish just above relegated Cavan and Roscommon.
Kerry eased to victory in Killarney, where all of Sean Cavanagh's five points came from frees, while 1-04 of Peter Harte's tally of 2-05 came from placed balls.
Speaking to the RTÉ GAA podcast, Brolly said that "it's time for change" and that "a psychology of fear" is gripping the Red Hand.
The RTÉ pundit says the movement towards an ultra-defensive system has become the undoing of the side that last lifted Sam Maguire in 2008
"They decided about 18 months ago, two years ago, to go completely defensive and play with two sweepers on the edge of the square...a very automated, defensive system," he said.
"What you see now is that the psychology of fear has taken hold and they don't really know how to win games anymore.
"At one stage (against Donegal), they were seven (points) behind and had two sweepers on the edge of the square pointing at each other – that tells you all you need to know.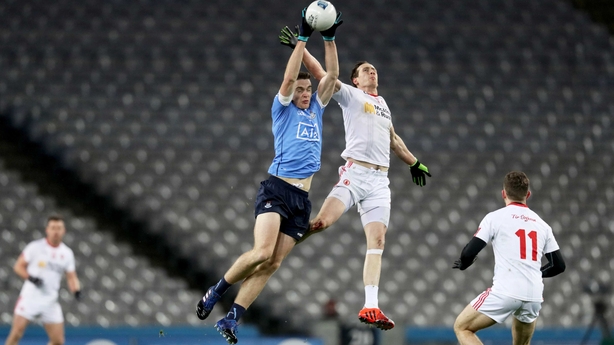 "If Dublin are seven points behind, you'd better get ready because they're coming for you."
"They [Tyrone] don't use any attack method. They know the system is malfunctioning and not working for them.
"Tyrone are deteriorating very quickly and morale is deteriorating very quickly.
"They're stagnant and you can see that the whole experiment's coming off the rails now."
"They have the players but what they don't have is any commitment to attack. That's been coached out of them"
The 1993 All-Ireland winner says that the negativity has spread within the camp and that he was told by someone within the panel that training has become "depressing".
Brolly insists a change in style is urgently required if they are to contend for honours in September.
"I spoke to a couple of the Tyrone players privately a few weeks ago," he said.
"One of their better players, one of their really, really good players, and you should hear what he's saying in private about how depressing the training is and how they're playing, and you can see that now.
"I do believe it's too late to change to a more expansive style. They have the players but what they don't have is any commitment to attack.
"That's been coached out of them."