Their Division 1 status might be hanging by a thread, but Roscommon manager Kevin McStay insists that his charges remain determined to take a scalp before their inevitable relegation.
A 2-17 to 1-13 defeat in Monaghan all but condemned the Connacht side to Division 2 football, but with games to come against All-Ireland champions Dublin and Cavan, a downcast McStay said delivering moral victories was no longer enough to satisfy his dressing-room.
"We did expect more [today], but these moral victories of getting close but falling off are no good to us," McStay told RTÉ Sport. "We so badly want to get two points before we leave this division.
"The game against Cavan at the end of the campaign is going to be a very, very big game and obviously the next weekend against the Dubs will have its own hype."
Five defeats in five games represent a huge setback following last year's appearance in the league semi-finals, but McStay believes morale remains high amongst his panel.
"Looking in the dressing-room now, it wouldn't be a simple thing to mention Dublin to them now. We all have to go home and lick our wounds, get back up on the horse and go again.
"The two matches left, to the outsider might look like dead rubbers, but I can assure you they are not to us. We are going in to get as much out of the division before we say goodbye to it.
"Morale is very good and we have a very good spirit. They are young and enthusiastic, and they are learning tough lessons in this difficult, difficult division.
"National League football is at such a high standard, it's close to championship and nearly higher than it now at this stage. They are tough lessons but I have no sense that we are going to back away from what's ahead of us this summer."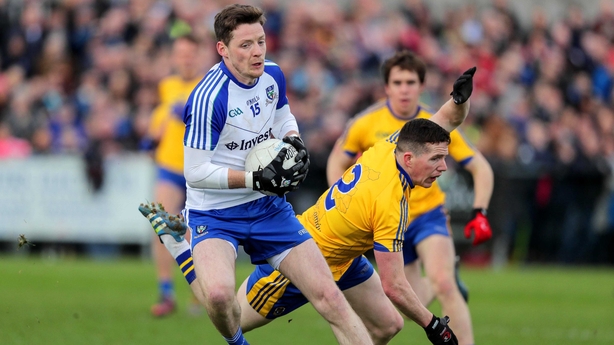 Reflecting on this weekend's game in Inniskeen, McStay admitted Roscommon's failure to take their chances was punished by a ruthless Monaghan outfit.
"It's disappointing. We put a lot into the weekend and prepared ourselves as best we could," McStay said.
"We could have been level if not a point or two ahead at half-time, but we weren't. Then we won the throw-in, went up the field and lobbed the ball into the goalie's hands from 14 yards out. Then they go down and start building their lead.
"We had some chances, not too many, but if we'd taken those chances we could have asked a couple of more difficult questions.
"With 20 minutes to go, though, there was only one team in it. Monaghan were deserved winners. No complaints."