Fermanagh manager Pete McGrath savoured a "critically important" defeat of Clare at Brewster Park and challenged his side to kick on in their Division 2 survival mission.
The reliable boot of Sean Quigley kicked 0-08 to give the Erne men a fighting chance of staving off relegation.
They're second bottom in a congested table, but McGrath took heart from the manner of a huge win.
"The result was critically important coming off the back of three defeats; three difficult matches, Galway then away to Cork and away to Kildare," he said.
"It was vital we got a really good team performance today, which we did get, and then the result on top of that.
"It does leave us a bit of wriggle room in the sense that we've two matches left, our fate is still in our own hands and we've just got to bring the energy, focus and intent into next Sunday against Meath, which will be another challenging game down in Navan.
"The pitch was heavy, it was sodden. It was a day for hard work; getting men back, getting tackles in, making it difficult for them to create.
"Then when you have Sean on form with frees, that provides the outlet at the other end. There was a lot of hard work in the middle third."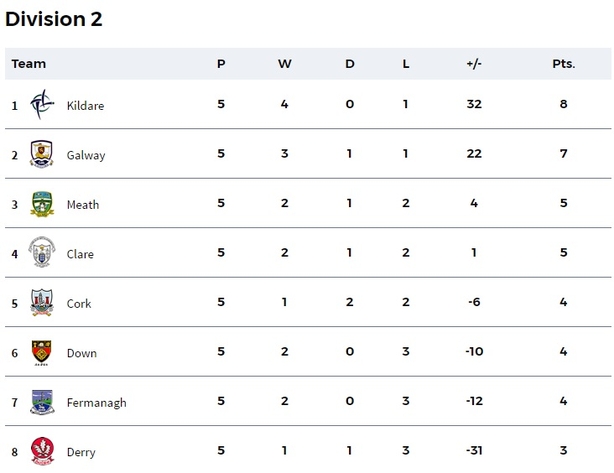 Clare aren't safe themselves despite sitting in fourth.
They travel to table-toppers Kildare next week for a daunting test, but Colm Collins refused to panic after today's loss.
"Anybody looking at this division knows that points have been going either way," he said.
"Fermanagh are a good side, fine display of kicking, particularly the long-range free-taking of Sean Quigley, excellent stuff.
"They kicked some really good scores and were undoubtedly the better team on the day. Hats off to them.
"But we've got two more matches to go. We'll be targeting those two matches... there's a lot of playing in this division yet."