By Stephen Barry
Meath rescued an unlikely Allianz Football League Division 2 draw from their visit to Cork, but it could have been more as a last-minute foul on Graham Reilly was controversially adjudged to have occurred outside the penalty area.
Cork, having led by double scores, 0-16 to 0-8, after 48 minutes, collapsed to concede 1-6 without reply thereafter.
They steadied with scores in the final three minutes of regulation play from a Colm O'Neill free and Barry O'Driscoll, which restored a narrow lead. But that late foul on Reilly, as he bore down on goal, was converted by Donal Lenihan in the 75th-minute for a share of the spoils.
Meath's run of 1-6 in 15 minutes was remarkable given Cork's dominance to that point, but they were met with no reply as Eamonn Wallace, Alan Forde and Donal Lenihan (free) points were followed by a goal from Donal Keogan. The corner-back ran the ball into the net in the 55-th minute after an incisive pass from Wallace.
When Reilly kicked a huge point from long-range, it was suddenly 0-16 to 1-12.
A pair of wides followed by a shot from dual star James Toher which rebounded off the post looked costly, but it was one-way traffic and Lenihan levelled with a free before Sean Tobin kicked Meath ahead with five minutes to play.
The subsequent scramble for the points ultimately resulted in a draw which won't do anything to restore the promotion chances or ease the relegation worries of either side.
It was a completely different story in the first-half as, after Bryan McMahon's opener, Cork scored seven points in a row.
Only captain Paul Kerrigan survived Peader Healy's cull of forwards from the Clare defeat and the Rebels responded with a much-improved display early doors.
The concession of a string of needless frees gave Cork a leg-up, with a pair of opportunities each for Mark Collins and O'Neill, although Collins missed the last of the four.
Meath crafted a goal chance in the 14th-minute as Cillian O'Sullivan sidestepped Ken O'Halloran but James Loughrey tracked back to make a crucial save. Cork countered with an O'Neill score, laid off by target-man Peter Kelleher, and that first score from play sparked Cork's best spell.
Despite the loss of Aidan Walsh to a knee injury and Ian Maguire to a black card, they remained dominant in the middle and points quickly flowed from Kerrigan and O'Neill, with his fourth and fifth scores of the game.
O'Neill could've added to the 0-7 to 0-1 lead only to drag his shot badly wide.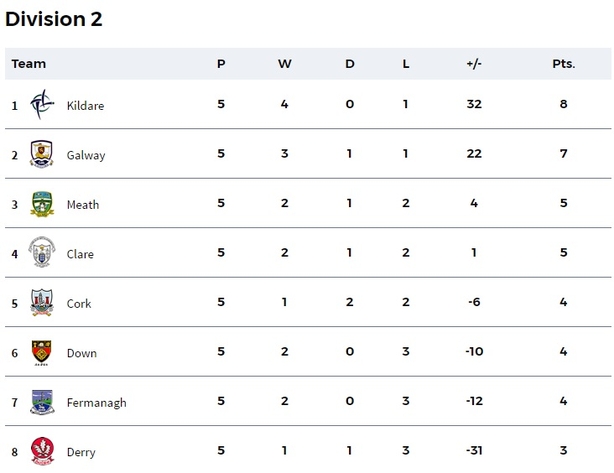 Meath were very elaborate in attack and Graham Reilly ended a 21-minute scoreless period after a long build-up. Further points from Alan Forde and Donal Lenihan, a free, cut the deficit to four.
Cork were in rampant form, though, with Kelleher a focal point in attack for O'Neill and Kerrigan. The full-forward tapped wide from close range when a goal looked probable but a run of score from O'Neill, Kelleher, Collins and Ruairi Deane doubled Cork's advantage, 0-12 to 0-4.
A stoppage-time reply from McMahon made it a seven-point comeback needed after the break.
The Royals almost got the dream restart, as O'Sullivan picked out the unmarked Lenihan, but O'Halloran stood up to make a fine save. Two pointed frees from O'Neill resumed normal service at the far end as the lead hit nine points.
It took until the 52nd-minute for Meath to close within the seven-point mark but once they did that, the deficit tumbled to nothing.
Cork: K O'Halloran; K Crowley, Tom Clancy (Clonakilty), M Shields; Tomas Clancy (Fermoy), J Loughrey (0-1), S Cronin; A Walsh, R Deane (0-1); I Maguire, M Collins (0-3, 2fs), K O'Driscoll; C O'Neill (0-9, 6fs), P Kelleher (0-1), P Kerrigan (0-2).
Subs: J O'Rourke for Walsh (8, inj), C O'Driscoll for Maguire (20, BC), C Dorman for Tomas Clancy (57), Barry O'Driscoll (0-1) for K O'Driscoll (61), K Davis for Kerrigan (64), N Coakley for Kelleher (73).
Meath: P O'Rourke; D Tobin, C McGill, D Keogan (1-0); W Carry, B Power, P Harnan; B Menton, J Toher; R Ó Coileáin, C O'Sullivan (0-1), A Forde (0-2); B McMahon (0-2), G Reilly (0-3), D Lenihan (0-5fs).
Subs: E Wallace (0-1) for Ó Coileáin (24), J McEntee for Power (ht), S Lavin for Carry (53), S Tobin (0-1) for O'Sullivan (53), S McEntee for Forde (63), J Wallace for McMahon (68).
Referee: Fergal Kelly (Longford).