By Ciaran McGreal
Galway secured their third league win of the season as they overcame Derry 5-15 to 2-15 in an enthralling Division 2 contest at Tuam Stadium.
Derry led 2-10 to 2-07 at the break with Benny Heron and Emmett Guckin notching goals for the visitors.
Danny Cummins had scored Galway's first goal after just three minutes and Tom Flynn's effort on the stroke of half-time meant Galway trailed by just three points at the break.
But with the wind at their backs in the second half, Galway ran riot as Johnny Heaney, Eamonn Brannigan (penalty) and substitute Shane Walsh all raised green flags to secure Kevin Walsh's side a nine-point victory.
Cummins gave Galway the dream start with his early goal. Michael Daly did brilliantly to engineer the opportunity and Cummins was on hand to fist home.
Niall Loughlin was superb for Derry all day and he got the first of his five points after ten minutes.Johnny Heaney pointed in the 16th minute to give put Galway 1-05 to 0-04 up but Derry then took control as they notched an unanswered haul of 1-05 in 11 minutes.
Loughlin, Benny Heron and James Kielt all kicked points before Heron grabbed his side's first goal of the match on 23 minutes. Emmett McGuckin saw his powerful shot well saved by Rory Lavelle but Heron reacted quickest as he fisted the ball into the empty net.
Another two points from Loughlin gave Derry a four point advantage.Galway missed a penalty in the 29th minute as Thomas Mallon produced a fine save to deny Berry McHugh after Niall Keenan was penalised for a foot block on Michael Daly.
The first half ended with a goal for both sides. McGuckin scored his side's second goal a minute before the break to put Derry six points up. Tom Flynn's late effort kept Galway in contention.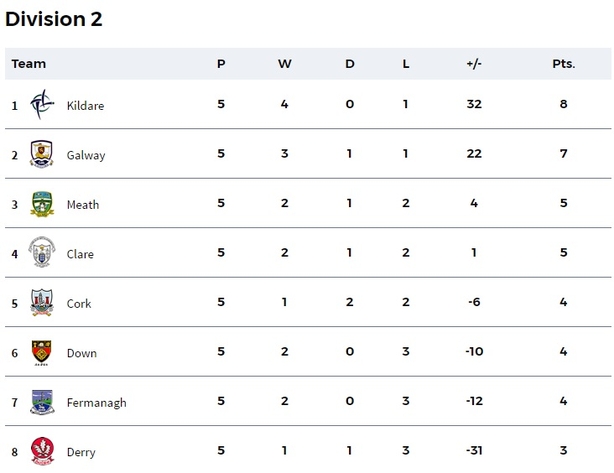 James Kielt kicked a free just after half time but Galway made the most of having the breeze behind them as they kicked four unanswered points to level proceedings.
Daly (2) and Eamonn Brannigan narrowed the gap before Flynn kicked the leveller on 44 minutes.
Derry hit back with three unanswered scores through Kielt, Carlus McWilliams and Danny Tallon.
However, Galway roared back as captain Gary O'Donnell and Brannigan kicked points before Johnny Heaney bagged his team's third goal of the contest after an hour following great build-up play from O'Donnell and McHugh.
A penalty from Eamonn Brannigan in the 65th-minute gave Galway some breathing space after Osin Hegarty fouled Daly. And substitute Shane Walsh scored his side's fifth goal in injury time to add some gloss to the scoreline.
McGuckin saw his late penalty saved by Lavelle but it mattered little in the end as Galway held on for victory.
Galway: R Lavelle; L Burke, D Walsh, C Sweeney; G O'Donnell (0-01), G Bradshaw, J Heaney (1-01); P Conroy, F Ó Curraoin; G Sice (0-02, 0-01 free), T Flynn (1-01), E Brannigan (1-03, 1-00 penalty); D Cummins (1-01), M Daly (0-03), B McHugh (0-02, 0-01 '45).
Subs: S Walsh (1-01) for Cummins (50 mins), M Lundy for Sice (55 mins), M Farragher for Bradshaw (57 mins), L Silke for Heaney (70 mins), F Hanley for Burke (72 mins), E Tierney for Conroy (74 mins).
Derry: T Mallon; C McGrogan, C Nevin, N Keenan; M McEvoy, M Craig, N Forester; C McAtamney, J Kielt (0-05, 0-03 frees); D Tallon (0-01), B Heron (1-02), C McWilliams (0-01); E Lynn (0-01), E McGuckin (1-00), N Loughlin (0-05, 0-02 frees, 0-01 '45).
Subs: O Hegarty for McGrogan (20 mins), R Bell for Loughlin (50 mins), C Kielt for Nevin (50 mins), P Hagan for Tallon (66 mins), J Rocks for McAtamney (69 mins, black card).
Referee: Rory Hickey (Clare)