Dublin manager Jim Gavin was delighted with the character his side showed and the draw that earned the Boys in Blue a record-equalling 34 matches unbeaten.
The Dubs now haven't been defeated in League or Championships since early March 2015, when they lost to Kerry in Division 1 of the League.
At one stage of Saturday's top flight clash with the Kingdom at Austin Stack Park in Tralee Gavin's team trailed by four and even two minutes into stoppage time at the end of the game they were two behind.
But late scores from Dean Rock and Paul Mannion, who scored the equaliser, ensured that Dublin drew level with the great Kerry team of 1928-'33 that went 34 games unbeaten. They will have a chance to go one better against Roscommon next weekend.
"They had a big breeze in the second half and they pulled four ahead, with 72 minutes gone and two down, but we've always stayed present in games and tried to get the scores," said Gavin, who has led his team to three All-Irelands, four Leagues and four Leinster titles.
"We played our traditional style of football and got the draw in the end."
When asked about his side's never-say-die attitude, Gavin said: "That's expected in a team game and this football team is more than the some of it's parts - that has been its strength in previous games."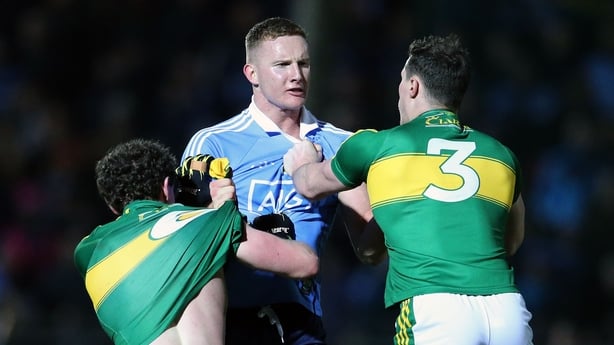 This was no ordinary League game and in front of a packed 12,000-strong house in Tralee it was clear that neither side wanted to give an inch.
In all there were ten players booked, seven from Kerry and three Dubs, and there were several flash-point incidents. Dublin's Ciaran Kilkenny got sent off just before the final whistle when he picked up his second yellow card.
People think it's something we talk about, but really it isn't - Cian O'Sullivan
Dublin defender Cian O'Sullivan, who came on as a half-time substitute to make his first appearance of the League, was quick to play down the pulling and dragging.
"You could see it out there - we love playing against each other and there's something special there," said the four-time All-Ireland winner," he said.
"Whether it's League or Championship there's always a bit of something extra to these games. It was an intense game, but there was nothing nasty in it - it was a good game and we're satisfied to have taken something out of it."
And just like Gavin, he wasn't that keen on talking about Dublin's record-equalling status.
"People think it's something we talk about, but really it isn't," insisted O'Sullivan. "It's nice to hear that we've equalled that record, but we won't be resting on our laurels."
Kerry boss Eamonn Fitzmaurice cut an animated figure on the sideline during much of this game, which is far from his usual calm match-day appearance.
Afterwards he admitted his disappointment at not having won after leading by four points playing with the wind in the second half, but he was quick to praise Dublin.
"We felt that we had a lot of chances, but this Dublin team have shown on this run of games that when they're under the kosh they keep going," he said.
"I think the lads showed great character tonight. It was a ferocious battle, which is to be expected with the great rivalry that there is between these two teams. It was a great battle and an entertaining game for the neutral."