Colm Cooper is not a sportsman who divides opinion. Football fans love him; love the way he plays and love watching him perform on the big stage.
Even those supporters who have witnessed the Gooch pick their own teams' defences apart can't help but admire him. Opponents know he's going to torment them, but the acknowledge his greatness.
He's well on his way to National Treasure status.
He has won pretty much everything there is to win in the game - though remarkably he has no Footballer of the Year award to go with all his All Stars - and there's only one major medal missing from his impressive collection.
Cooper will turn 34-years-old this summer and Friday may be his last chance to win an All-Ireland club football title with Dr Crokes. His quest to get his hands on the Andy Merrigan Cup has taken on all the proportions of quest and standing in the way are Slaughtneil from Derry.
Gooch has five Munster medals from 2006, '11, '12 ,'13 and last year, and Crokes have been unable to convert them into an All-Ireland title. In fact, only 2007 were they able to make the St Patrick's Day decider at Croke Park, which they eventually lost to Crossmaglen Rangers after a replay.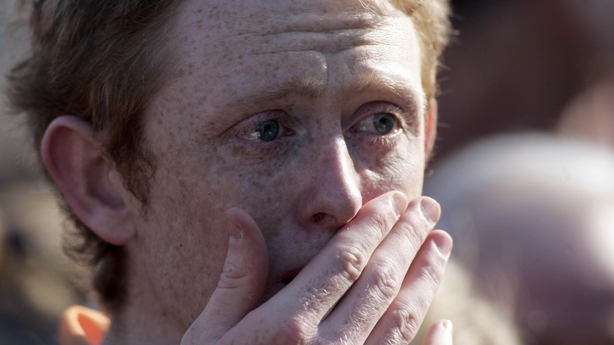 "Around the country people have known him since he was playing for Kerry, but we have known him since he was a small boy - we've seen ten more years of him," explained Peter O'Brien. "He's an unbelievable footballer, a gentleman, and we'd love to see him win one."
O'Brien has known Gooch nearly all of his life. He's the better part of 15 years older, but they grew up on the same Ardshanavooley estate in Killarney and O'Brien kicked ball with his older brothers Danny and Mark. Cooper is the youngest of a family of seven.
There I was trying to build up my confidence and and eight-year-old was sticking shots past me into the corners! - Peter O'Brien
"He always playing with us because he was too good to play with his own age group," revealed them man who kept goals for Dr Crokes in 1992 when they won their sole All-Ireland title, beating Dublin's Thomas Davis in the final.
O'Brien recalls that day with affection and the small part that the 'foxy-headed young fellah' played in the occasion.
"Coming onto he field those days you came out under the Canal End and there were two locked gates at the end of the tunnel that were being guarded by a man in a green GAA suit," he says, winding up for one of his favourite yarns.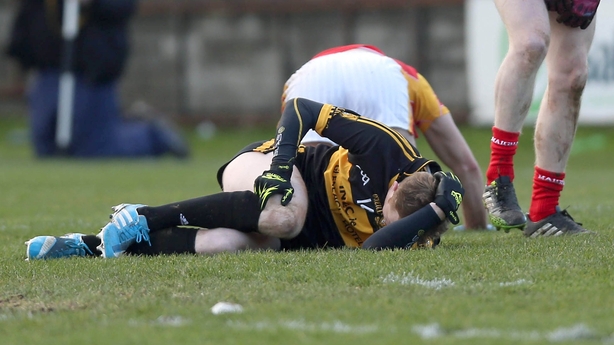 "We were lined up ready to go, waiting for the gates to be opened and I had hold of Gooch's hand. He hadn't slept in two weeks since the semi-final win over Corofin, he was so excited.
"The man in the green suit said to me that there were no mascots allowed out on the pitch and I could see the colour drain out of Gooch's little face. I asked him was he serious - I told him this little lad had been dreaming about this day.
"Well the gate opened all of a sudden and it was a scene out of Gladiator - we burst through them, the man in the green suit got a few gentle pushes and I ran out onto the pitch holding his hand," laughed O'Brien.
"He was out on the 21 handing balls to lads and I called him in to take a few shots - his eyes lit up. 
"He was on the 14-yard-line and he put the first one in the top corner. He put the second one in the same spot and the next two bottom corner. He asked for another ball and I told him in no uncertain terms, language I maybe shouldn't have used around a child, to get in behind the goal and throw the balls back out to the lads.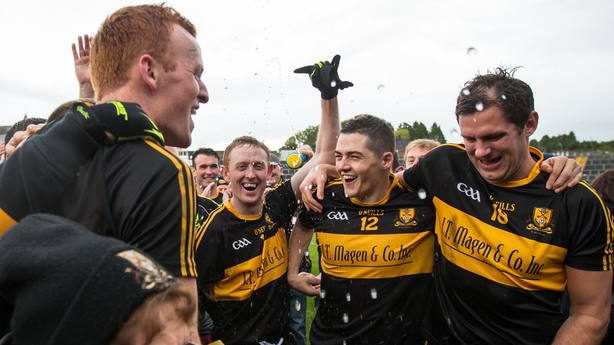 "There I was trying to build up my confidence and and eight-year-old was sticking shots past me into the corners! My confidence was shattered! I conceded no goal in the game that day, but an eight-year-old scored four on me!" chuckled O'Brien.
Cooper's story is intertwined with that of the All-Ireland club championship. He works for the competition's sponsors AIB and he played a part in the creative process that led to the development of their now-famous The Toughest advertising campaign.
It's a competition that arguably even cost him a year from the prime of his career. He suffered a serious knee injury in the 2014 All-Ireland semi-final defeat to Castlebar Mitchels that ruled him out of that entire season.
"We've had a few attempts since '92," said O'Brien. "We're overdue one, but that doesn't meant that we'll win it.
"We'd love to put the 25 years thing to bed because we're sick of talking about it and they're sick of listening."
.@MartyM_RTE explores the history of Dr Crokes and Slaughtneil ahead of Friday's All-Ireland Club Senior Football final #GAA pic.twitter.com/CY0rrAB1JN

— RTÉ Sport (@RTEsport) March 15, 2017