Next year's All-Ireland finals are likely to be on the last two Sundays in August following GAA Annual Congress's landmark Championship restructuring at the weekend.
The Association's highest authority voted on Saturday to bring two of the biggest days in the Irish sporting calendar forward by three weeks.
And GAA Director General Paraic Duffy confirmed their showpiece events are most likely to be on 19 and 26 August, 2018 - with a chance that football will take place before hurling.
"The last two Sundays are what we are thinking of – there is no reason why it can't be done," he said.
"It could be football first, hurling second. We're open to that. We'll look at what's best in terms of the fixtures template."
The All-Irelands' traditional slots are the first and third Sundays in September, though when there are five Sundays in the month they take place a week later. Last year's finals were on 4 and 18 September with the football final replay on 1 October.
Moving them forward into August is a massive shift for the GAA and playing football first would add to the sense of change.
Congress voted in a raft of Championship reform as part of a major push to free up more time for club games.
As well as the earlier All-Ireland finals, Championship games that finish level after normal time will go to extra-time and replays will only feature if they remain deadlocked after 90 minutes of play. Provincial and All-Ireland finals are the only matches that will go straight to replay.
Two round robin groups have also been introduced to replace the All-Ireland SFC quarter-finals too. This proved the most controversial of all the changes as it will mean eight extra matches in the competition, make it more difficult for lower tier counties to make the semi-finals and taking the limelight from hurling.
All of these measures will come into affect in 2018 and run on a three-year experimental basis.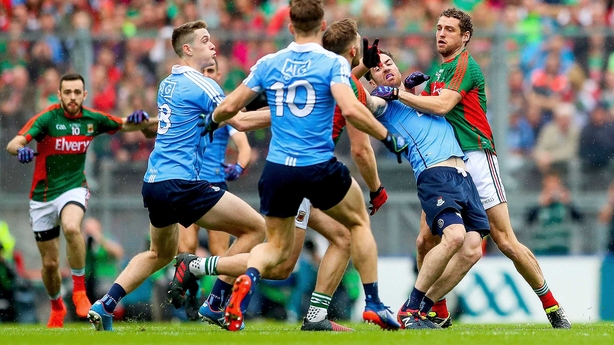 The extra football games may mean more matches on television too, though Duffy said this wouldn't be a major change. The GAA and broadcasters only recently announced a new five-year deal.
"There may be a slight increase in the number of games but it'll be limited," he explained.
"We signed the agreements based on the current (structures) but we were aware when we were negotiating with them that it was a possibility there could be change. They'll have no issue around that, it doesn't make a difference.
"It might have an impact on the number of games but it doesn't affect the financial (agreements); none of those things, no. The only difference it might make is that you might show an extra couple of games. But we'll have to see how it works out."
Congress came in for a lot of criticism after the weekend for all of the above decisions, with club and county players insisting that they would do little or nothing to improve their welfare.
However, Duffy believes that Annual Congress is still fit for purpose.
"I think the weekend was really democratic," he said. "As I said, what more can you do short of polling everybody on every issue? The people who were there today, the representatives, they are people from the clubs."