Kildare manager Cian O'Neill was left "frustrated" after a controversial late goal for Derry condemned the Lilywhites to an Allianz Football League defeat at Celtic Park.
Deep into injury-time, Emmett McGuckin fisted the ball from Kildare goalkeeper Mark Donnellan's grasp and into the net.
Kildare felt it was a foul and were furious when referee Sean Hurson  consulted with his umpires and allowed the goal to stand, resulting in a single-point victory for the hosts.
"I'm very disappointed with the defeat but the defeat came as a result of the goal," O'Neill told RTÉ Sport.
"I'm disappointed on two levels.
"First of all, a free was given out and the referee changes his mind. It's not the first time I've seen this this year.
"Not taking away from Derry's victory because you have to play until the final but for me it was a clear foul on the goalkeeper.
"The player got the ball cleanly but followed through and rifled the keeper into the net.
"If that was a midfielder catching a ball and his opponent fired him to the ground in the middle of the pitch, that's a free."
"If that was a midfielder catching a ball and his opponent fired him to the ground in the middle of the pitch, that's a free. 
"So why should it not be a free for a goalkeeper? That's what disappointed me."
O'Neill said it was the second major refereeing error to cost his team this season.
"Something similar happened in Newbridge a couple of weeks back.
"We got a goal. It was given and then the ref brought it back, apparently on word from the linesman that there were two hops.
"But with all their creativity and communication, the video analysis showed there weren't two hops.
"And then this happens today."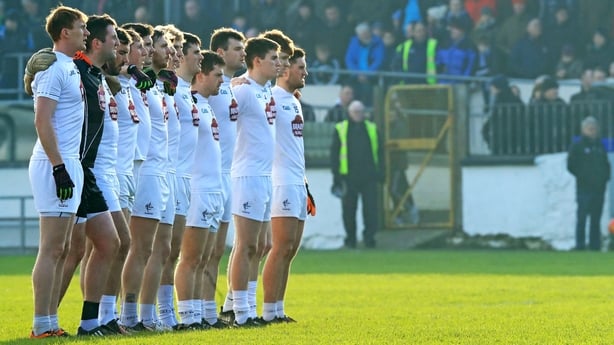 Nonetheless, O'Neill admitted that having led 1-10 to 0-08 at half-time, Kidare shouldn't have allowed the game to be a still up for grabs at the end.
"It's frustrating but we put ourselves in that position where we were only two points up. You pay sometimes when you don't take your scores.
"We were disappointed going in at half-time because we felt we didn't do enough with that breeze. 
"It was always going to favour a good kicking team, and Derry have some fantastic kickers as we saw in the second half.
"We were a little bit slow to start the second half and they punished us. 
"But the players showed great resilience to bounce back and go up two again. To be caught like that with a sucker punch hurts but we just have to regroup for Fermanagh."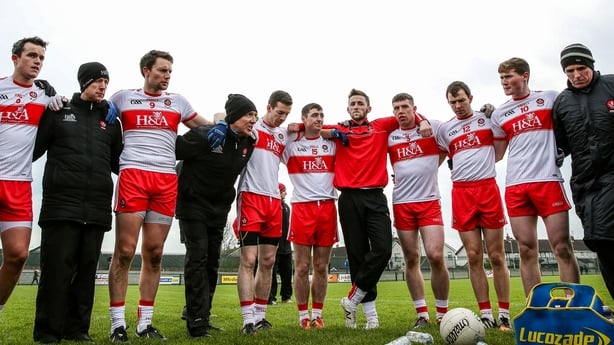 Derry assistant manager Brian McGuckin admitted that "a draw would probably have been a fair result" but said they were "delighted with the victory."
He highlighted a seven-point scoring spree after half-time as being key to their win.
"We got the right players on the ball in the right positions at the start of the second half and kicked over a couple of fabulous points at the start of the second half, which put us in the driving seat," he told RTÉ Sport.
"There was a period in the second half where we completely controlled that game but we let Kildare back into it.
"It looked as if they were going to head home with two points but the attitude that we showed throughout the entire game...
"It would have been extremely disappointing to come away with nothing. We've been denied luck in previous weeks, we got that wee bit of luck today."