GAA President-elect John Horan insists that he will remain in the background for the next 12 months in order to allow Aogan O Fearghail see out his term in office.
The 58-year-old Dublin secondary school principal won a resounding victory on Friday night at the opening session of this year's GAA Annual Congress.
He won 144 of a possible 278 votes ensuring that he was elected on the first count, when it had been expected that several rounds would be needed. Sean Walsh and Frank Burke both got 46 votes, Martin Skelly got 22 and Robert Frost 20.
Na Fianna man Horan refused to be drawn on what he saw as the cornerstones of his three-year presidency, saying he would keep his powder dry until 2018.
"Aogán is the president for the next 12 months so I'll support him and learn from him as best I can," he explained.
"I don't think it's fair to Aogán for me to comment - he is the president for the next 12 months, as I said here tonight, and I'm going to stick with it."
While many at Croke Park were surprised at the commanding nature of his victory, Horan says he was quietly confident of getting home in the first round.
"My tallymen and my allies worked it out and they reckoned I was in with a great shout of pulling it off on the first count. I think the fact that Leinster stayed very loyal and supported me gave me a good head-start in the whole campaign.
"I worked very hard in Ulster and overseas as well - I put the work in. In fairness to the other candidates, they worked equally as hard, but I must have got my message across," said the Uachtarán Tofa.
Ulster was always going to have a big say in this election as they hadn't got a candidate in the race while overseas units make up almost a quarter of the votes available, which is why the hopefuls all racked up a lot of air miles in recent months.
Horan is the first Dublin-born GAA President since Daniel McCarthy between 1921 and '24. Sean Ryan ('28-'32) and JJ Stuart ('58-'61) represented Dublin but were from Tipperary and Clare respectively.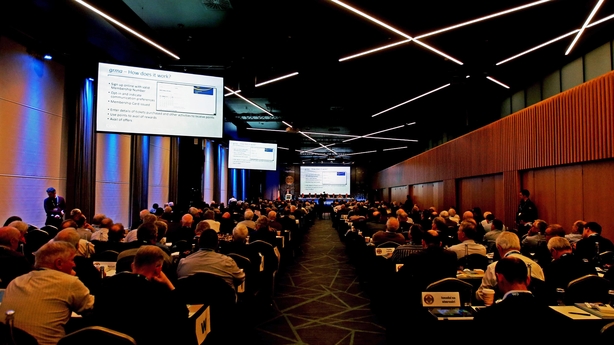 Annual Congress continues on Saturday morning, starting at 9.30am, with a total of 56 motions on the agenda.
Most of the big decisions will be taken early on, with the proposals on changing the Championship structures numbers four, five and six on the agenda.
Motion four is the Super 8s, which would see two round robin groups replace the traditional All-Ireland SFC quarter-finals.
Five proposes bringing both All-Ireland finals forward to August and six wants to see extra-time introduced into all Championship matches, bar All-Ireland finals and provincial finals. If introduced, each would be on a three-year trial basis.
They will each need a two-thirds majority to pass. There are motions to reduce that majority required to 50 and 60 per cent, though if either passes they won't come into affect until next year. Ironically, they will need a two-thirds majority to be put into the rulebook.
The first night of Congress 2017 was low-key enough aside from the election, with none of the major business coming up for discussion.