There's no point in change for the sake of change - and I think that's what the GAA are doing with their new Championship proposals. They don't go far enough.
Bringing in a Champions League style format at this late stage of the season doesn't seem to make a lot of sense. It's ensuring more games for the top teams in August.
Leaving the provincial structures alone doesn't make any sense either - for teams with ambitions of going further in the summer these are just glorified pre-season competitions.
Should tradition dominate? Can we break with tradition?
If you told someone 30 years ago that we'd be taking frees out of our hands they'd have laughed at you. If we had stuck with tradition, Tyrone would never have won an All-Ireland.
I think the amount of money coming into Croke Park blinkers some people and they forget about the welfare of players, both club and county, but there's enough of money coming in that they don't have to worry about losing a few quid.
The players are the ones who suffer. County players have to play for 12 months without a break while club players are sitting around wondering when their championship game will be and playing league games without their best players.
"We need more games and less training sessions. The balance is all wrong at the moment."
Players are being lost in the middle of this argument. I remember as a club player there were games every weekend in April and May and then come June it was a match every month until it picked up again in October.
People have different ideas of what the problems are and until we decide what the problems are we can't fix it.
The problem, as far as I am concerned, is the lack of regular football for club players.
People are concerned about moving the All-Ireland finals back to August and they talk about shortening the shop window, but to me the shop window is every weekend around the country when lads are playing regular soccer and rugby games, knowing at the start of the season their schedule, while the GAA lads are sitting wondering.
We need more games and less training sessions. The balance is all wrong at the moment. Fellas' who play other sports must look at us and think we're crazy - and they'd be right.
"I would like to see the season split - something like January to July for the county, May to October for the club."
In my view clubs have to accept that they won't have all of their players for every game and that county managers will have to accept that they have to allow their players to line out for a certain amount of club games during their season.
I would like to see the season split - something like January to July for the county, May to October for the club. There'd be a short overlap, with the clubs doing without their county players at the start of their season, but they'd have them exclusively then.
I'm a big American football fan and they play a 15-game season in four months. We could play a 15/20 game season in 6 months - more than enough time for both and plenty of games.
When Mickey Harte took over Tyrone in 2003 we trained collectively once a week, trained with our club and had a game at the weekend plus whatever strength and conditioning we were doing on our own. People would look at that now and think it was madness!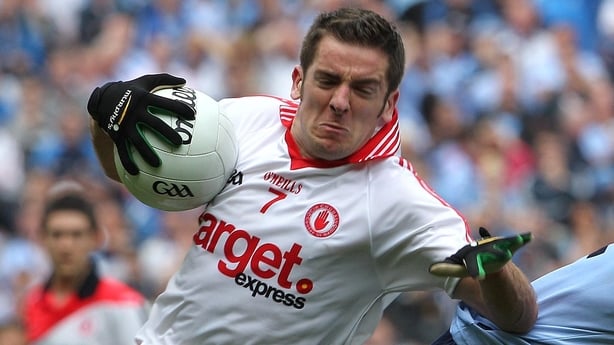 By the end in 2011 we were doing something every day so by the time my body was hurting most I had my biggest workload. And what we were doing then is nothing compared to what they're doing now.
There were years when we'd finish with Tyrone, go in with the club and finish in December and go into the McKenna Cup in the first week in January - a two-week closed season. It's a recipe for burnout.
When you're playing with the county, you're selfish and you think that the 'club can wait'. Then I finished up with Tyrone and I had two years with the club before injury ended my days playing.
We had been relegated and were favourites for the intermediate championship, but we had no idea when we were going to be out in Championship - if Tyrone lost on Sunday it would be in two weeks, if they won, God only knew.
The playing population in the GAA is probably divided up 95 per cent club players and five per cent county players, but the system is stacked entirely in favour of the county players. That's wrong and it has to change.
Just a final quick word on St Mary's and their incredible Sigerson Cup win last weekend.
I won a Sigerson in 2000, it's a competition I love and it's very close in standard to senior county football. I lost a few times to St Mary's over the years and those hurt against a fellow Belfast college.
There's something special there with them because they are a small college - they always feel there's something to prove. They have a bond like no other.
Huge credit to their manager Paddy Tally, who was trainer with Tyrone when we won our first All-Ireland in 2003. To guide your team to beat UCD UCC, DCU and NUIG in one season is phenomenal.
The fact that three of their best players are from Tyrone will be very pleasing for Mickey.
Conor Meyler as captain was outstanding and he really grew into the role. Cathal McShane and Kieran McGeary both contributed well too and that bodes well for the county team.