Waterford manager Derek McGrath says there is "a gap" between Tipperary and their rivals after the All-Ireland champions beat his side on Sunday to move clear at the top of Division 1A of the Allianz Hurling League.
The Premier County ran out 1-18 to 0-15 winners at Walsh Park after John McGrath's second-half goal tipped the scales.
"Tipp were deserving winners," McGrath told RTÉ Sport.
"There's a gap between Tipperary and most of the teams and I think it was evident there today.
"I don't think we'll be the only team on the end of a six-point beating from Tipperary this year."
Nonetheless, the Déise boss wasn't rushing to any long-term pessimism, and pointed out that Dublin's unexpected win over Cork showed the folly of judging teams too early in the season.
"It's week for week," he said. "Last week we were writing off Dublin and Ger Cunningham's managerial credentials and this week, rightly so, we're reaffirming the good man that he is and the good team that he has.
"You bridge the gap by working harder and doing your absolute best to train hard and prepare. The hope is that you continue to work hard, maybe unearth a player or two along the way to add to the depth of your squad."
"I don't think anyone is going to be psychologically scarred by results in the league but nobody wants to be relegated."
McGrath insists that Waterford can't afford to let their thoughts wander to more prestigious assignments in the summer, most notably ending a nine-year gap to the county's last All-Ireland final appearance.
"If people leave today thinking Waterford are concentrating on the Championship, they leave ill-informed," he said.
"I don't think anyone is going to be psychologically scarred by results in the league but nobody wants to be relegated.
"We're all out for the League because we feel it's benefited us greatly over the last couple of years. The reality is we need the League for Waterford to do well in Championship.
"We're trying to give fellas a couple of runs intermittently but at the end of the day you don't want to be relegated to 1B."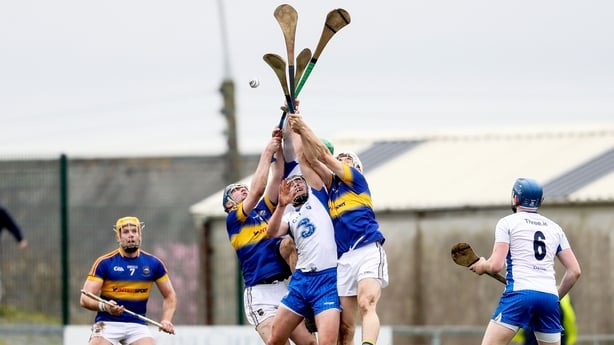 Tipperary manager Michael Ryan was understandably happy to come away with a second away win on the trot.
"This is a tough place to come and we were playing a really top team. To go home with the points we're delighted," he said.
"I thought the first half was pretty even. There was nothing in it. We went in a point up but could just as easily have been a point down.
"Both sides showed a really good attitude and it was a really good game. The goal gave us a little bit of daylight but it was a match right up until then, and beyond.
"It was hard for both sides to play out there. Conditions were as good as they could be but this time of year it takes an awful lot out of the bodies. You're always going to use the full complement of 20 guys."
The six-team 1A and 1B format has been criticised by managers whose teams have found themselves locked out of the top tier but Ryan says it certainly keeps things interesting.
"It's a great league. It gives and gives," he said. "You have to fight for everything. You'd be a wise man who can tell how the points situation will be after five games. It will ebb and flow.
"There were great results for Dublin last night against Cork and Clare today against Kilkenny so it's all to play for."