On 5 April, 2015 Down beat Laois by 3-12 to 1-15 in Division 2 of the Allianz Football league.
That victory ensured that the Ulster men ended the season in first place in the table and earned promotion to the top flight.
The five-time All-Ireland winners and 2010 finalists looked on the cusp of becoming contenders again.
They haven't won a game in League or Championship in 14 outings since.
The strain of that drought is now starting to show and up to four players are believed to have left the panel ahead of last Sunday's defeat to Clare in Ennis.
Down lost their first two games by a combined 15 points and face a Meath side that put 3-15 past Derry next.
"It's disappointing at the minute, the performances over the past 18 months, touching towards two years now," former Down full-forward John Clarke told RTÉ Sport.
"For a proud county like Down, it's a long time without a win and it's worrying.
"From a past player and current supporter's perspective, it's doom and gloom at the minute.
"I just can't see where Down are going to get their next win from. The previous two games, Fermanagh and Clare, Down might have expected to have got something from and they were well and truly outclassed in both of those games."
Some of the tensions have been traced back to the departure of Jim McCorry at the end of the 2015 campaign.
The former Kilcoo boss, who led the club to the first three of their now five county titles in a row, stepped down after only narrowly winning the backing of the County Board to stay on at the end of his first season in charge.
McCorry's replacement Eamonn Burns did not have the services of the 2015 captain, Kilcoo club man Conor Laverty, last year and relationships appear to have worsened since.
No Kilcoo players started against Clare at the weekend and players from the club are believed to have travelled home separately after the loss.
Kilcoo's Paul Devlin and Ryan Mallon are among those to have joined former Downpatrick man Damien Turley in quitting last week while a number of high-profile names from other clubs like Conor Poland (yet to make a squad) and Niall Madine (not on the panel) have been left out in the cold.
Last weekend the official Down GAA Twitter account 'liked' a tweet from Kilcoo PRO Michael Kane calling on Burns to quit, before 'unliking' the tweet.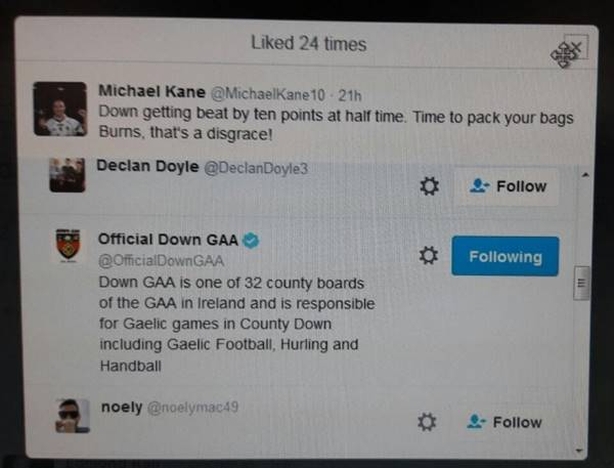 Clarke suggests that some players may no longer be performing for the manager, but insists that they owe it to the jersey to give it their all regardless.
"Players need to accept responsibility. If they're playing for Down, it's just good enough just to say you have a jersey and that's it"
"I just don't know, do the players care enough?" he asked. "Is there enough desire to wear the red and black at the minute?
"Maybe the best players aren't playing for the manager, I don't know what it is but it's not good and they're heading towards Division 3.
"Players need to accept responsibility. If they're playing for Down, it's just good enough just to say you have a jersey and that's it."
Clarke's younger brother Marty returned from his second stint in the AFL in 2014 but despite playing club and Sigerson Cup, has failed to feature for Down as he seeks to manage a medical condition, Addison's disease.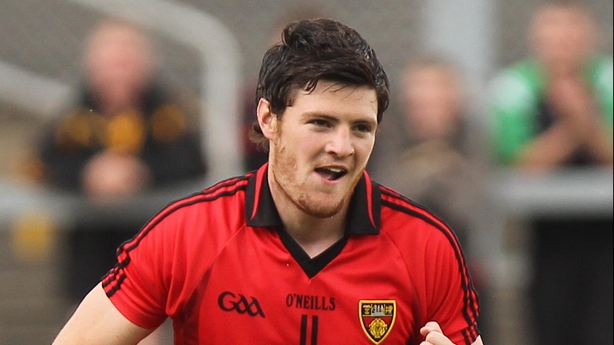 John doesn't expect Marty to return and thinks that it's time for the next wave of players to step up to the mark.
"People crying back to the likes of my brother Marty coming back but Marty is touching 30 now and he's come out in the past couple of weeks saying his county days are over," said John.
"People have to accept that the likes of him and Dan Gordon have moved on and it's up to the new generation now coming through. But they just don't seem to be stepping up to the mark.
"There is a core of experience there like Kevin McKernan, Mark Poland, Conor Maginn. It's up to those guys to lead the younger players through these difficult times and try to bring Down out the right side of it.
"You need to go out and perform. Realise you're playing in Division 2 and that you've a massive Championship match coming up against Armagh in June."
Both John and Marty started on the Down side that lost the All-Ireland final by just point to Cork seven years ago.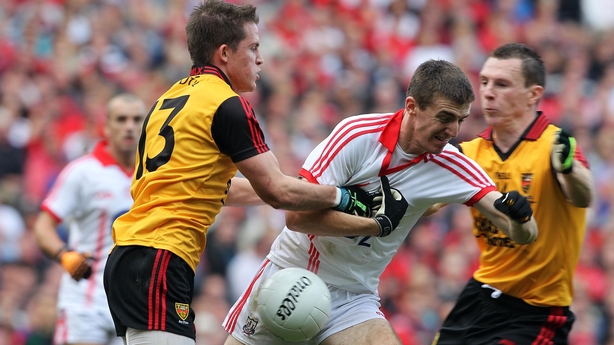 "Those days seem a long long way ago now," said Clarke.
"Down are always capable of coming from nowhere to get a run in the championship but since 2010 there's been a massive turnaround of players, retirements, injuries.
"It didn't kick on from then and now Down have reached the bottom.
"It's time to start a revival but it's hard to see where it's going to come from.
"Players, management and county board level, have to take an overall look at things and see what's going wrong and how we can build.
"Down doesn't have a centre of excellence, which could be part of the problem as well, they're going from club pitch to club pitch to try and get training organised.
"But if Ross Carr (who is leading the Club Down fundraising initiative) can come with a solid foundation of financial input, Down can maybe get a centre of excellence."
Listen to live coverage of Laois v Offaly & Cork v Dublin this weekend on RTÉ Radio 1's Saturday Sport Extra from 7pm