Paul Geaney is hopeful the new blood in the Kerry team can help them push on and build momentum ahead of the Championship.
A powerful first-half performance from Eamonn Fitzmaurice's side laid the foundation for an invaluable away win in Donegal, despite a late dip that saw Donegal pick off the last six points of the game.
The Dingle man's second goal put the visitors nine points up before Donegal's rally put a gloss on the scoreline.
"We have struggled in the past in the long journeys in the league, especially early in the league as well. It was a great start for us," he told RTÉ Sport.
Eleven of the side that featured in last year's All-Ireland semi-final defeat to Dublin started the game, while Fitzmaurice also handed first competitive starts to Jason Foley, Tom O'Sullivan and Jack Savage, who scored three points from corner forward.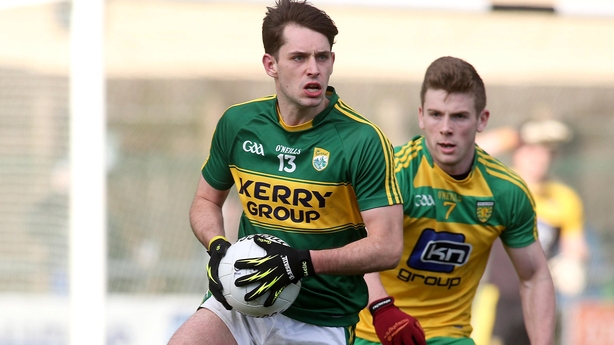 "Jason Foley at corner back had a great debut, Tom Sullivan at wing back and Jack Savage (above) at corner forward. Building relationships is very important and the League gives you a good basis for that."
The win comes off the back of a victorious McGrath Cup campaign, though the All Star was happy to make more of an impression on the scoreboard than his last outing against Limerick.
"In the McGrath Cup Final against Limerick I'd say I didn't even touch the ball in the whole game, so it was nice to finally get the year started," he said.
"Hopefully it will continue as I left it off last year.
"An upward graph is what I want...It was nice to get the goals."
"When Donegal started getting the momentum, and when the body is tired, it can be extremely hard"
Despite failing to score for the final 15 minutes, Geaney isn't overly concerned by the fade out.
"It's early in the year. We're not where we want to be physically. When Donegal started getting the momentum, and when the body is tired, it can be extremely hard
"They just had the run on us in the last 10 minutes and we just weren't able to respond...but it was extremely satisfying first 40 minutes."