Galway manager Kevin Walsh said he won't target "too much too early" after the Tribesmen retained their FBD League crown against Roscommon.
Cillian McDaid and Danny Cummins goals drove them to a deserved victory at Kiltoom, but Walsh warned the real works starts now as he looks to integrate club and college players who've been unavailable to him thus far. 
Galway start their Allianz League Division 2 campaign against Cork next Sunday.
"When you get to finals it's nice to finish them off," Walsh told RTÉ Sport.
"I thought the lads controlled it fairly well with some good crossfield passing and holding possession at the right times. 
"February is a different kettle of fish for us. 
"You're looking at the college players who wouldn't be available until next week for us... and obviously with Corofin being in the (All-Ireland Club SFC) semi-final in two weeks' time, there's a certain amount of players that we don't have access to.
"Today gave young lads a great chance to step up. But to target too much too early... we have to try and interlink these guys now from the colleges and see if the young lads can step up in the league."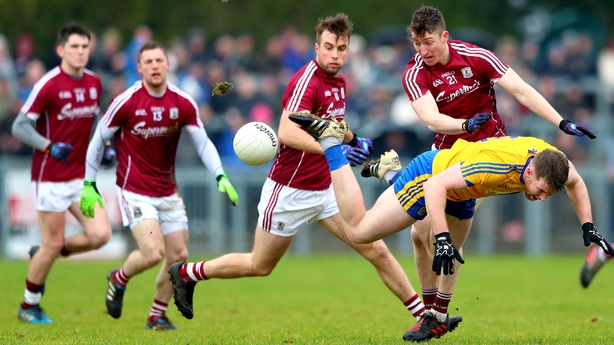 Rossies joint-manager Kevin McStay is content with the progress of his charges, as they gear up for a daunting Division 1.
Despite defeat on Sunday, McStay believes Roscommon are making steady progress and will look to hone their squad for a summer charge.
"The real action begins next Sunday," he said ahead of their clash with Tyrone in Omagh.
"I'm happy enough where we're at. I'd like to have won the FBD, all the boys would have. We set out to win it. For long periods we were certainly in with a good shout, just towards the end it tailed off on us and Galway were the better team. You'd have to say that.
"I feel we're going in the right direction. The critical errors we're making at critical periods in the game are holding us back all the time. Until we rectify that and tidy it up it's probably something we'll be talking about throughout this league.
"The league is a fantastic competition. It's a real competition. We'll be looking to really bed in our National League panel and the hope would be that it would stay more or less that panel for the championship."