Waterford hurling manager Derek McGrath hopes the experience of self-funding a recent squad trip to Liverpool will bring his players even closer together.

The panel assumed complete ownership of the fund-raising for their bonding weekend to Liverpool in mid-January and took full responsibility for the finances involved.

Only last week Connacht GAA secretary John Prenty warned that counties were "living beyond their means", words that rang in the ears of GAA administrators everywhere.
Prenty referred specifically to his own province, Connacht, where, last year, the cost of running teams rose from €3.7m in 2015 to €4.9m, an increase of 32 per cent.

Mayo, Roscommon and Galway all topped the €1m expenditure mark, and, in his annual convention report, the secretary wondered if counties were "mad" to be throwing such amounts of money at their flagship teams.

Waterford, themselves, have been stretched in the past decade and have been fighting debt for much of that time. McGrath is acutely aware of that burden, but yet also conscious of the need to invest in his squad to help maintain their undoubted progression, hence the players taking matters into their own hands for the recent trip.

The manager acknowledged that the county board was doing all it could to help the team, as was supporters group, Club Déise, but admits that trying to keep the team's preparation standards high was a costly exercise.

"It's difficult to stay competing with other counties - on and off the field," McGrath told RTÉ Sport.

"We have to let the whole thing evolve as well," he added. "There has to be unity of purpose in what we are trying to do.

"With regard the trip to Liverpool, we took ownership of that - but it wasn't because of a lack of support. In the run-up to Christmas guys were caught with exams and we didn't have a chance to go away. Maybe that's down to the proportion of students-to-workers that we have in the squad.

"Either way, December was a bad time for us and we ended up going away a little later. So, we arranged it ourselves. We are conscious of pulling out of the same people and there has to be an element of altruism and volunteerism in what you are doing too.
"So, we had to present ourselves as transparent in all that we were doing and, by that I mean, telling people what the money was for because, effectively, we were going away for a bonding weekend.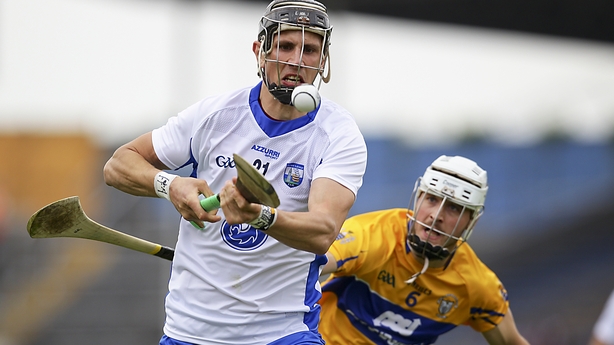 It's difficult to stay competing with other counties - on and off the field - Derek McGrath
"Club Deise and the county board always help us but we took this on ourselves. I suppose lads could then see that they were putting more into this thing than just playing hurling matches and training in the gym. You were almost putting your own money into it and that brings you back to an element of volunteerism.

"The key is not to overdo it. If you had four or five events of that nature during the year then you would constantly be pulling out of the players and that's not good either.

"So, you must see where the thing is going, see what you want to create and I think that if a player is honest and takes ownership of something like this, well his roots are strong. And when you are creating an elite squad of players that grounding is good too."