As the song title goes 'The Times They Are A-Changin' and they certainly are in Donegal football, with a number of players retiring and others opting to sit out 2017.
Last week, Odhrán Mac Niallais announced that he would not be part of Rory Gallagher's squad this season, citing personal reasons. Earlier Leo McLoone made it known that he would also be taking an inter-county break this season.
Add in the retirements of Eamonn McGee, Colm McFadden, Christy Toye, Rory Kavanagh and David Walsh and there is a big void for Donegal to fill.
One man, however, will be around for the challenges ahead and is confident that the 2012 All-Ireland winners can remain a force, adding that the core of a good squad remains .
Donegal talisman Michael Murphy says that a new chapter Donegal football has already begun.
"We have used more or less the same squad for the last four or five years and I do feel now is the time to place trust in new players," he told RTÉ 2fm's Game On.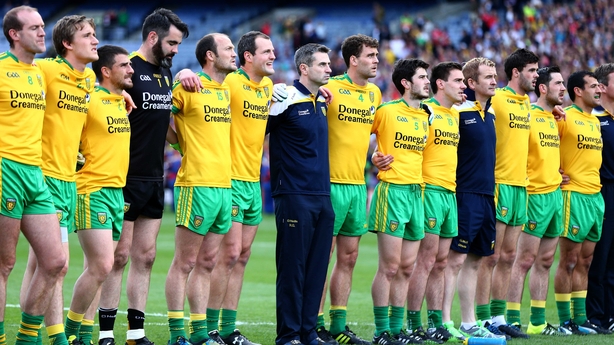 "Rory (Gallagher) has put in a place a development phase and younger lads are now getting their chance - lads that have played in All-Ireland minor finals and have experienced big matches in Croke Park.
"There is still a good core group here. Blending in the new recruits will hopefully see us reach that level where we are able to match the pace, power and athleticism that's out there.
We have worked up through the rungs to get there."
Murphy was also asked about the the newly formed Club Players Association and welcomes the new body, while adding his voice to the view that the All-Ireland finals should be brought forward.
"I'm totally in favour of the CPA and the formation of any group to help players out is brilliant," he said.
"I'd be a massive advocate of the work the GPA do for inter-county players
"There is a need to bring forward the date of the All-Ireland two months and it would give you two clear months to play club championship.
"You're playing inter-county games every couple of weeks then rather than every four weeks. You could comfortably play it (All-Ireland finals) off by the first weekend in August."