The Club Players Association came into being partly because of "bureaucracy, red tape, dinosaurs, and condescending officials", according to secretary Declan Brennan.
The organisation was launched yesterday in Dublin and has stated that their main aim was to deliver a more meaningful programme with a shorter season for club players, and to give a voice to a body of players that makes up the majority of Gaelic games participants.
The issue of prolonged seasons with significant gaps between club games to accommodate inter-county players has been to the fore for many seasons.
Asked why the GAA had not come up with a solution to the issue, Brennan told RTÉ 2fm's Game On: "Because of bureaucracy, red tape, dinosaurs, condescending officials, you call it.
"I'm quite lucky that I've been involved in all levels: universities schools, counties. I have seen it, I know what we're up against and if nothing else [is] done there's a fear factor in what we're bringing to the table.
"I have no doubt in my mind that this will work.
"It's not the GAA [hierarchy], it's not the [director-general] Paraic Duffys that's stopping this.
"It's officials, bureaucracy, red tape, not thinking of the player.
"Club players are second-class citizens at this moment in time, and that includes your county player because he's going 12 months of the year.
"He doesn't want it anymore, they are afraid to say anything.
"Managers have a great way of saying 'I don't want you playing for the club', they won't say it directly, they'll say 'you know your body, you know what to do yourself, you're old enough'."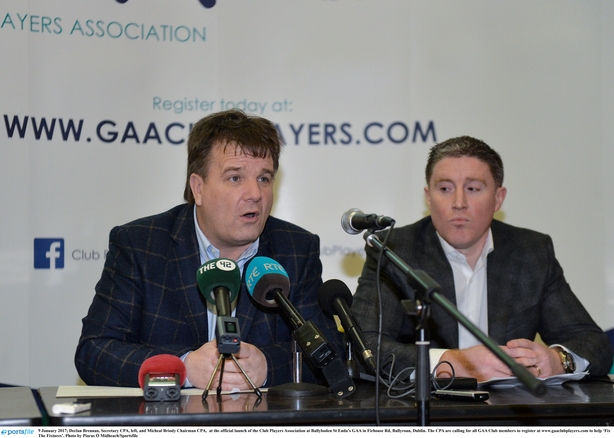 Brennan has welcomed the idea of a shortened senior championship season, something which is on the agenda for next month's congress, but also stressed that other competitions will also be part of the discussions.
"Competitions need to go," he said.
"Everything is on the table. I'm just talking from an Ulster point of view. You've the O'Fiaich Cup now to get ready for the McKenna Cup, you've the McKenna Cup to get ready for the National League, and you've National League to get ready for the championship – that's an example, everything is on the table.
"If something needs to be said we're going to say it. We're not just going to shout it, we're going to back it up with stats, with evidence that this is what players want."
"The work the [Gaelic Players Association, for inter-county players] has done for the county player has been fantastic... there's far too much funding going in.
"They done their job [from] the remit they got. The reality is they are inside the circle now.
"We are not inside the circle and we won't be."