Ulster 2-16 Connacht 3-10
Peter Harte was the star man once again for Ulster who reclaimed the GAA Inter-Provincial football title with victory over Connacht at Páirc Seán Mac Diarmada.
Last year's competition was cancelled due to Storm Desmond but Connacht won the 2014 renewal when they got the better of Ulster in Tuam.
However on this occasion Pete McGrath's men took control of the game in the second-half and despite a black card for Chrissy McKaigue, after they trailed by 3-06 to 1-10 at half-time, Ulster fought back.
Ciarain Murtagh (two) and Damien Comer scored goals for Connacht but Aidan Breen and Charlie Vernon cancelled them out.
And it was the Ulster man, Harte who kicked five points to ease them to their first title since 2013, and Ulster's 32nd in all. 
Ulster remain top of the charts in the inter-provincial competition but it was reigning champions Connacht who were two points in front at the break after a brilliant attacking display before the half-time whistle.
But their defence coped brilliantly too, and outside of the pin-point free-taking of Peter Harte, Ulster were bereft of opportunities.
Wing-back Breen found the net but that was cancelled out by two Ciarain Murtagh strikes and one from Comer.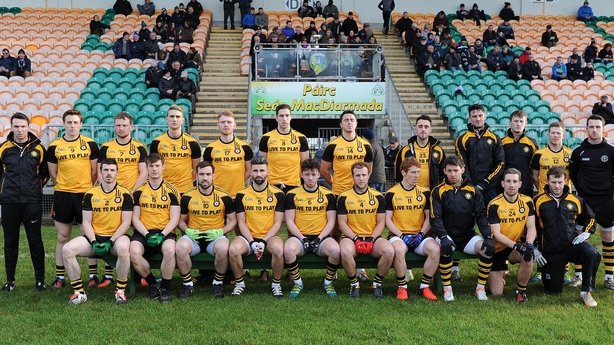 Connacht were impressive in their 2-17 to 1-18 semi-final win against Leinster and they began well again here.
Early points from Ciarain Murtagh and Danny Cummins put them on track, while Harte got Ulster going in the fifth minute. 
But Murtagh scored his first goal in the eighth minute after a pass from Niall Murphy. And the same two combined three minutes later as Murtagh gave Connacht a 2-03 to 0-03 lead. 
But Ulster hung in the game and Fermanagh defender Breen scored their goal in the 18th minute.
Tomas Corrigan had Ulster back within a point in the 26th minute, but Comer scored Connacht's third goal and they led 3-06 to 1-10 at half-time.
Ulster full-back Chrissy McKaigue got black for a foul on Fintan Cregg just after his introduction at half-time but his team had the ascendency in the second-half.
Vernon scored the crucial goal in the 39th minute and quick-fire points from Vernon, Harte and Breen put the game out of reach and sealed the win for Ulster.
Ulster: N Morgan (Tyrone); M Jones (Fermanagh), K Clare (Cavan), D O'Hagan (Down); T McCann (Tyrone), C Moynagh (Cavan), A Breen (Fermanagh) (1-02); E Donnelly (Fermanagh), C Vernon (Armagh) (1-01); K Niblock (Antrim), P Harte (Tyrone) (0-05, 0-04f), E Lynn (Derry) (0-03); N Sludden (Tyrone), S Campbell (Armagh) (0-01), T Corrigan (Fermanagh) (0-04, 0-2f).
Subs used: R Johnston (Down) for Niblock (28 mins), C McKaigue (Derry) for Moynagh (30 mins), B Rogers (Derry) for McKaigue (33 mins, black), D McCusker (Fermanagh) for Clarke (38 mins), M Donnelly (Tyrone) for Campbell (44 mins), T Kernan (Armagh) for Vernon (55 mins).
Connacht: D Clarke (Mayo); K McDonnell (Sligo), J Duane (Galway), D Wynne (Galway); N Daly (Roscommon), G O'Donnell (Galway), J Heaney (Galway); E Smith (Roscommon) (0-01), K Higgins (Roscommon); F Cregg (Roscommon), D Cummins (Galway) (0-01), C Murtagh (2-03, 0-01f); N Murphy (Sligo), D Comer (Galway) (1-01), J Doherty (Mayo) (0-02, 0-02f).
Subs used: P Conroy (Galway) (0-01, 0-01f) for Cummins (12 mins), D Wrynn (Leitrim) for Higgins (44 mins), G Bradshaw for Doherty (49 mins), E Mulligan (Leitrim) (0-01, 0-01f) for Conroy (52 mins), J McManus (Roscommon) for McDonnell (53 mins), D Murtagh (Roscommon) for Murphy (57 mins), C O'Shea for Smith (59 mins).
Referee: Padraig O'Sullivan (Kerry).